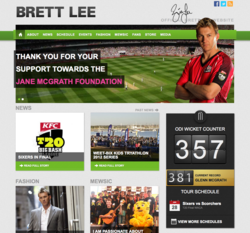 First official website of Australian cricketing legend Brett Lee has been launched...
(PRWEB) January 30, 2012
Gold Coast Website Design agency, Tropixel, said one of the key objectives of the website design was to give supporters the opportunity to interact with Brett and each other. 'The Forum' is dedicated to Brett Lee fans from around the world, enabling them to connect through online discussions and to access never-seen-before photos and videos of Brett. The website design also includes links to Brett's social media streams and is packed with Brett Lee trivia, interviews and news.
Florian Stotz, CEO of website design Gold Coast agency Tropixel said "The team at Tropixel has been really excited about working on this website. Brett is not only an extremely talented cricketer but is also great to work with. We're thrilled to have designed a website that truly represents him'.
The ecommerce element of the site means fans can directly purchase Brett's new autobiography 'My Life', and eventually there will be a full range of Brett Lee merchandise.
# # #