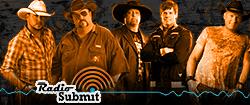 Wimberley, Texas (PRWEB) January 31, 2012
Over 44,000 radio stations broadcast daily from around the world. Reaching all these stations can be a strain on artists' valuable time, finances, and resources. Now, country music's biggest stars are changing the way they deliver their new music to radio. Artists Jason Aldean, Montgomery Gentry, Kevin Fowler, Colt Ford and more are digitally delivering their new music to radio stations around the globe. And they are using Radio Submit to do it.
Until recently, the common method for getting new releases to radio from record labels, artists, or record promotion companies was to mail by post or other services such as Fedex, UPS, or DHL. Artists would include a photo, printed promotional and bio material, in addition to a CD. All this was packaged into a large envelope and sent out to radio, hoping someone would at least open it. All this was for just one station. Artists do this for thousands of stations and a cost of several dollars per envelope.
Radio Submit allows artists to deliver their new, broadcast quality music to radio in a way that is much less expensive, and it allows any radio station anywhere on earth to get the new music the minute it is released to radio. Artists sign up to Radio Submit and upload their broadcast quality music and also receive a promotional website. The promotional website can be used to post photos, promotional materials, event updates, links to official websites, and includes an artist blog. Radio Submit is a green alternative to printed media sent out to radio. Radio stations can easily access new music and artist information all in one place.
Radio Submit's service is free for broadcast professionals that have been authorized by Radio Submit and given a password to securely download hi-resolution, broadcast quality tracks for playing on their stations. Broadcast professional can access artists in a variety of genres, including country, rap, blues, soul, pop, gospel, bluegrass, and even syndicated radio shows.
For more info about digital music presentation and delivery plus syndicating radio programs visit Radio Submit's website at http://www.radiosubmit.com
Contact
Robert Bartosh
rs(at)radiosubmit(dot)com
Radio Submit LLC
13501 Ranch Rd 12
Ste 103-327
Wimberley Texas 78676
(512) 938-3461
###