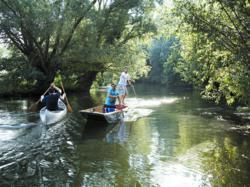 With one-off prices starting from only £90 Scudamore's Season Tickets offer unbeatable value in these cash-strapped times.
Cambridge, United Kingdom (PRWEB) January 31, 2012
It was Ratty in The Wind in the Willows who first suggested that 'there is nothing, absolutely nothing, half so much worth doing as simply messing about in boats'. Inspired by these wise words Scudamore's Punting Company in Cambridge have just launched their 2012 range of Boat Hire Season Tickets.
Designed with latter day 'river rats' in mind, Season Tickets are valid for 7 months from March to September 2012. During this period ticketholders are entitled to one free hire session on each applicable day (either 5 or 7 days per week). As a hire session can be as short as an hour or as long as all day, there is thus plenty of time for 'simply messing about in boats'! And with one-off prices starting from at £90 Scudamore's Season Tickets offer unbeatable value in these cash-strapped times.
Ticketholders have access to the various types of craft that Scudamore's hire out on two sections of the River Cam. Whilst only traditional punts are available for the College Backs, they are supplemented by canoes, kayaks and rowboats on the Upper River. Canoes and kayaks in particular offer a very good cardiovascular workout which also can help to develop core strength. Regular paddling offers a healthier outdoor alternative to going to the gym and with a Scudamore's Season Ticket it is now available at a fraction of the cost of gym membership.
SEASON TICKET PRICES
Darwin (individual user weekday only ticket): £90
Erasmus (dual user weekday only ticket): £120
Newton (individual user daily ticket): £150
Pepys (dual user daily ticket): £180
NOTES FOR EDITORS
Over the past century or more boating has been one of Cambridge's favourite pastimes. Boat hire occurs on two sections of the River Cam, respectively called the College Backs and the Upper River.
The 1.5km section of the Cam known as the College Backs runs through the heart of historic Cambridge and is one of the most beautiful stretches of river in England. Set amidst spacious lawns and intimate gardens are some of Cambridge's grandest college buildings, including King's College Chapel, the Wren Library and the Bridge of Sighs.
More tranquil than the College Backs the Upper River winds through fenland, meadows and woods to the beautiful village of Grantchester, lying some 4km south of Cambridge and once the beloved home of the poet Rupert Brooke. Generations of boaters have paddled, punted and rowed out to this 'upriver resort' to enjoy a relaxing day on the meadows or to take tea under the trees at the Orchard.
ABOUT SCUDAMORE'S PUNTING COMPANY
Punts were introduced to Cambridge as pleasure craft in Edwardian times. One of the pioneers of boat hire was Mr F. Scudamore, who founded his business in 1910. Today, Scudamore's Punting Company own the world's largest fleet of punts, with over 150 craft available for hire along two routes. In recent years, the company has brought diversification to the River Cam with the introduction of canoe and kayak hire to the public.
# # #
FURTHER INFORMATION
For press visits, high resolution pictures or further information, please contact Robin Woolley at Scudamore's via robin.woolley@scudamores.com or on +44-1223-359750.