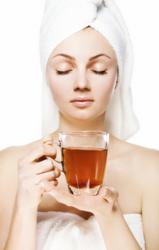 New York, NY (PRWEB) January 31, 2012
There are many who made a New Year's resolution to lose some weight, get in shape, and regain control of their body's health and well-being. It won't be easy, but the herbal tea offered by TEN-CHI CHA serves as an excellent tool to help people get the most from their diet plan and reach their goals. These herbal teas have been used to promote health and well-being for centuries, and applying them to diet could have huge benefits.
Made from twelve different Japanese herbs, TEN-CHI CHA is focused on complete body detoxification and includes ingredients like Dokudami that actually boost the body's circulatory function. By flushing out toxins and excess water, people will find that their weight loss goals are easier to reach. And the improved circulatory function has a huge impact on all aspects of their health, including better heart health, more energy and less fatigue. It can help find the energy people need to keep exercising.
This Japanese herbal tea also works by boosting the overall performance of a body's digestive system. Its detoxifying compounds helps to flush waste and other products out of the bowels and get the digestive system working the way that it should again. In other words, people will be able to drink the tea on a regular basis and relax as it promotes a healthy digestive system. When human's digestive tract is working properly, it absorbs the nutrients his body needs and expels many of the compounds that can lead to weight gain.
And since a good diet is as much about what people don't take into their body as what they do, TEN-CHI CHA is completely caffeine free and all natural. That means that people won't have to worry about the dangers that can come with diet pills or supplements, which can have harmful impacts on their body's health. Instead, they can sip their tea without worrying about side effects or health risks.
TEN-CHI CHA is confident that people will love the results their tea provides. Instead of turning to useless fad diets or dangerous over the counter supplements, taking a look at what all natural Japanese herbal tea can do for their body could be exactly what they need to get the upper hand on their weight loss goals. People don't need to let New Year's resolution get away from them yet again – add this twelve herb blend to their daily regimen and turn their weight loss goals into a reality.
About the Company
Eco Vita, LLC is an environmentally conscious, health product company, positioned to deliver vital herbal and natural products in the United States. The company is dedicated to social responsibility in areas of the world that supply their products. Eco Vita is a member of the UN Global Compact.
###