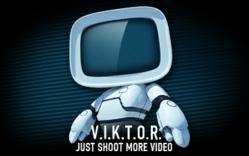 V.I.K.T.O.R. offers a new ingenious formula that turns video editing into a game
Hong Kong, Hong Kong (PRWEB) January 31, 2012
New Photographers Burning Factory proudly introduces V.I.K.T.O.R., the only amateur moviemaking app with a new ingenious formula that turns video editing into a game.
V.I.K.T.O.R. is among several applications to liven up mobile videos automatically and make it quick and easy: clips are cut and mixed in a short movie with a soundtrack. However, robotic editing has some weak points: even if one gets nearly an awesome movie, there could always be one or more shots to change in order to make it flawless. V.I.K.T.O.R. offers a perfect solution to the limitations of automatic editing.
First of all, the app proposes variety. Its original feature, "Refresh", enables users to create unlimited number of movie versions for the same set of video clips. Once a user taps "Refresh", the robot instantly mixes clips in a different way.
And secondly, V.I.K.T.O.R. makes it possible to refine the outcome. Its innovative feature "Drop'n'Roll" enables users to change individual fragments in a movie after it has already been edited automatically. They are empowered to cut into the process when and where it's necessary and replace some fragments leaving the rest of the edited movie intact. Using "Drop'n'Roll", one could also reassemble a movie clip by clip, much like a Rubik's Cube or a toy construction set.
"Refresh" plus "Drop'n'Roll" make up a new, strikingly simple formula for amateur moviemakers.
V.I.K.T.O.R. is the only iPhone app that makes automatic editing truly tangible. Now there's no need to have any editing skills, no need to upload clips on a remote server and wait for the unexpected outcome. The robot edits clips on a fly, right in front of one's eyes. "Refresh" and "Drop'n'Roll" features ensure polished automatic editing: numerous movie versions and one's own final cut for everyone.
Editing has never been so easy and fun. And now the game of automatic moviemaking has become even more addictive!
Key features making V.I.K.T.O.R. outstanding:

fun, polished interface that makes one want to use the app;
instant automatic editing
regularly updated collection of Themes from professionals
smart random choice of videos
interactive replacement of individual shots empowered by Drop'n'Roll feature
editing by field size according to manual sorting
unlimited number of movie versions for the same set of videos empowered by Refresh feature
trimming & cropping of video clips
20 sec, 1 and 2 min short movies
web, standard and HD quality (720p) output
sharing via Youtube, Facebook or e-mail
freemium cost: free app with some in-app purchases;
currently available for iPhone, to be released for Android, MacOS and other platforms.
About a Company. Founded in Hong Kong, New Photographers Burning Factory is a small enthusiastic team of professionals who enjoy bringing their experience in movie making, computer graphics, design, and software development to the new cross-cutting platform, helping to inspire creativity and sharing of precious memories.
###