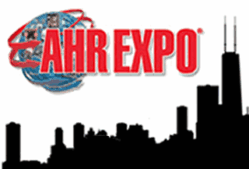 our AViCAD product was extremely well received by many existing AutoCAD® users at the show
Bend, OR (PRWEB) January 31, 2012
Last week 3 CAD Software products were showcased at the CADavenue AHR EXPO booth. The 2012 AHR EXPO continues to be the largest HVAC trade shows in the world.
With over 50,000 visitors from all 50 states and over 120 countries the show provides a way for leading software companies like CADavenue to show their latest innovations.
The following coupon code: ahrexpo-100off, was distributed at the show to promote CADavenue's top Engineering Software products at the AHR EXPO. These included Mech-Q, AViCAD and Plate 'n' Sheet which were exhibited to trade show attendees from all over the world.
Victor Abela, CADavenue's President, said "Initially we were very excited to reach out to new HVAC companies who would be seeing our new products for the first time. But I must admit we we did not understand the enormity of the trade show and how many visitors would eventually find our booth. In fact over a thousand of our demo CD's we distributed first day of show."
The U.S. based CAD engineering software company showcases complete programs and Add-ons for various applications such as AutoCAD® and IntelliCAD. Recently CADavenue announced AViCAD, a new Alternative for engineers using either AutoCAD® and AutoCAD® LT.
"Last week at AHR our AViCAD product was extremely well received by many existing AutoCAD® users at the show. They we really excited to see an affordable and viable alternative to AutoCAD® that includes a built-in engineering suite" Victor explained.
Victor continues "the AHR show confirmed to us that CAD users just don't have the time and resources for training like they used to. AViCAD offers a refreshingly simple to use dialog interface that get the job done very efficiently. It's meant to provide users a straightforward and easy approach to drafting and design."
More about the Promotion:
From January 23rd through the Feb 28th, 2012, the AHR CADavenue coupon can be redeemed by entering use ahrexpo-100off at checkout. The promotion is available to all CAD users worldwide and AHR attendance is not required.
Download trials of CADavenue's Engineering Software products are also available it is to create 2D and 3D mechanical drawings.
More About CADavenue:
CADavenue is a CAD software company that provides simple solutions for small and large firms worldwide. They specialize in low cost mechanical engineering software for AutoCAD, IntelliCAD and AViCAD. Industry specific utilities offered include: Piping, Ducting, Steel Beams and Mechanical tools.
For more information visit their website at http://www.cadavenue.com. For video demonstrations, please visit http://www.cadavenue.com/videos.
CADavenue is located in Bend, Oregon USA and is open for tech support and sales questions between 8-5 M-F PST.
Erik Zetterberg
Tel: (888) 271-7121,
sales(at)cadavenue(dot)com
In Europe contact: sales(at)asvic(dot)eu
In Australia/Int'l contact: sales(at)asic(dot)com(dot)au
###