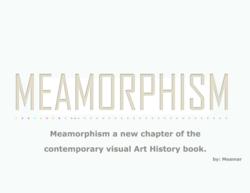 One single work of art morphes continuously into many dimensions...
San Francisco, CA (PRWEB) January 30, 2012
Already considered an art revolution by a selected group of collectors and artists who see it as the next school of artistic expression, Meamorphism™ is an innovative art expression conceived by and named after internationally acclaimed artist Meamar. Meamar's work is featured at Art People Gallery, a premier destination among San Francisco art galleries.
Meamorphism™ allows the artist to create in five or more dimensions by superimposing layers of virtual and digital canvases. This new and revolutionary art expression allows the artist to break through the barriers of conventional dimensions into unexplored territory. The resulting art piece pulls the spectator beyond the five traditional senses into a new world of sensory experiences.
To learn more about Meamorphism™, go to meamorphism.com
ABOUT ART PEOPLE GALLERY
Art People Gallery is located in the Crocker Galleria, 50 Post St., in the heart of the financial district, near Union Square's exclusive shopping area, close to the MOMA and the Jewish Museum. Art People is a full service San Francisco art gallery that specializes in contemporary fine art painting and sculpture by Bay Area and international artists. Art People also offers residential and corporate placement services including art rental programs, consulting and installation.
Art People Gallery is open Mondays through Fridays 10am-6pm, and on Saturdays from 11am-5pm. For more information, contact Ali Meamar at (415) 956-3650 or at info(at)artpeople(dot)net. You can also become a follower of Art People Gallery's Facebook page.
###