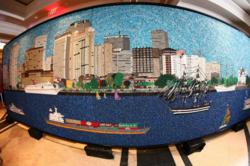 The city of New Orleans has given me such a beautiful gift with this idea and I simply wanted to return the favor, that is why I donated the mural.
New Orleans, LA (PRWEB) January 31, 2012
German native Stephan Wanger has completed the World's largest mosaic ever made out of beads. The size of the work is 8 feet tall by 30 feet wide and contains over a million recycled Mardi Gras beads. The artwork is called "Sanctuary of Alegria – Home of Happiness and showcases the skyline of New Orleans."
14 months ago, Stephan began the tedious process of assembling over a million single-cut beads in order to create awareness for thousands of tons of annually discarded Mardi Gras beads that are destined to become landfill this Mardi Gras season. The colorful mosaic "Sanctuary of Alegria" is now on display at his Galeria Alegria on 1924 Magazine St., in New Orleans Wed-Sun., until March 9, 2012. Then "Sanctuary of Alegria" will be auctioned off by the Make It Right Foundation to raise funds for the lower ninth ward, a neighborhood in New Orleans that was completely destroyed by Hurricane Katrina in 2005.
About 97% of all the beads that Stephan is using in his artworks, are recycled and many of them spray-painted. He continues to create huge mosaics that will help promote his adopted hometown and the state of Louisiana.
"Sanctuary of Alegria" showcases a view across the mighty Mississippi River towards downtown New Orleans, complete with the Natchez steamboat, the Carnival Triumph, the Italian tall ship "Amerigo Vespucci" (America received its name from Amerigo) and the German tall ship "Gorch Fock" because of Stephan's heritage as he was born in Wilhelmshaven, Germany – a seaport on the North Sea.
"Sanctuary of Alegria" is a very busy river scene to mark the 200th anniversary (1812 – 2012) of Louisiana's attainment of statehood as the 18th state in the Union and stressing the great importance the Mississippi river has had in Louisiana.
"I have always wanted to create a skyline and I believe this project will be the perfect attempt for competing for a Guinness World Record and do some good," says Stephán Wanger from his gallery located at 1924 Magazine St., in New Orleans. The community helped as well by signing the artwork, as Stephan has beaded out the signatures of over 300 people's on this gigantic postcard to the world. Two weeks before completion many volunteers helped with filling in the sky and the water.
The technique of cutting beads, using glue instead of hot glue and the process of creating these art works is new and Stephan gladly teaches it to students and in adult classes. It is an art form by the community for the community as many people drop off these Mardi Gras beads so Stephan can continue with his vision to promote New Orleans and the state of Louisiana in order to increase tourism. "The city of New Orleans has given me such a beautiful gift with this idea and I simply wanted to return the favor, that is why I donated the mural. What better way is there to have an artwork possible benefit a community?" asks Wanger.
The record-breaking mosaic is part of the "A Million Greetings from New Orleans" exhibit that Stephán has been working on since 2006. The exhibit will eventually tour Europe to further promote New Orleans and hopefully increase tourism to the city. By signing this gigantic postcard Stephan hopes to create awareness to recycle Mardi Gras beads.
The record that will be broken is:
The largest Bead Mosaic measured 3.74 m (12 ft 3 in) in width by 2.70 m (8 ft 10 in) in height giving an overall area of 10.1 m² (108.7 ft²) and was achieved by the 5th and 6th grade of Scoil Naomh Iosaf Primary School (Irish) in Baltinglass, Co Wickow, Ireland, 24 June 2010.
For more information visit galeriaalegria.com or if you would like to volunteer or drop off beads contact Stephán at (504) 400-4603. The world record attempt is sponsored by FuzziBunz Baby Products, Café Du Monde, PU Furniture, Ryan North Photography, St. Michael Special School, The Arc of Greater New Orleans.
Collected Mardi Gras Beads can be dropped off at Galeria Alegria at 1914 Magazine Street of at St. Michael Special School or at the ARC of greater New Orleans.
About Stephán Wanger, Artist
Stephán Wanger is a self-taught artist who channels his creative energy into assembling dazzling mosaics using recycled Mardi Gras beads. Working in a photo-realistic style, Mr. Wanger re-creates scenes, images, and icons of Louisiana to help bring awareness to the world of the innate beauty and wonder of the state's unique culture and varied communities.
Through his experiences traveling the world, Mr. Wanger has gained insight and influence from the Spanish Art Nouveau designs of Antoni Gaudi, the Moorish and Persian architectural details in Istanbul, Turkey, and the the sculpture and environmental art of Chicago artist and friend John David Mooney. These designs and images have translated to his work in pattern, design and fine detail. Though Mr. Wanger is not formally trained as an artist, he engages in a craft that speaks to fine art, borrowing the ideals of Post-Impresssionistic Pointillism and emulating the style and scale of Roy Lichtenstein's Pop-Art works. By approaching each piece with superior craftsmanship, Mr. Wanger has elevated what might be considered kitsch because of the whimsical materials he uses, and brings a level of "high art" to his craft.
In preparation for the formal construction of each piece, beads are meticulously sorted by size down to the exact millimeter and perfect shade, creating a detailed and varied palette much like a painter would for painting. The resulting play of light and color recalls several Post-Impressionistic artists' works while adding a new dimension of glitter and shine through the use of metallic, plastic and luminescent beads. The illusion of three-dimensional space is often created through the use of perspective but also the variety of sizes of the beads he uses to create actual dimension add an element of bas-relief. The finished works are stunning to regard both from distance and upon close inspection of his fine craftsmanship.
Part of Mr. Wanger's goal is in using recycled materials for his pieces. Not only does he collect discarded beads throughout Mardi Gras in an effort to clean post-parade debris, but also, he regularly visits salvage yards to gather additional materials for his work. Through his art, Mr. Wanger hopes to inspire the citizens of Louisiana to recycle and to create, and the the rest of the world to appreciate and gain fondness for the unique culture and natural beauty that Louisiana has to offer. The exhibit is called "A Million Greetings from New Orleans."
Mr. Wanger's mosaics works can be seen at Galeria Alegria at 1924 Magazine Street, New Orleans, LA 70130, or online at http://www.galeriaalegria.com.
###