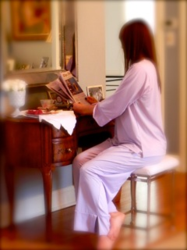 Goodnighties is a 'dream' for the sleepless and a quick way to warm the heart of your significant other, said Goodnighties creator Marcia Bacon.
Highland Park, IL (PRWEB) January 31, 2012
It's true – this year's choice for the gift women want and truly need is the latest in simple solutions for better sleep – Goodnighties pajamas and nightgowns are quickly taking the market by storm. Completely USA Made patented ionized fabric that stimulates blood flow to tired muscles to help restless sleepers finally get a good night's sleep. Thoughtful men know the most romantic woman is a rested one and for some, it's actually life changing. Unlike flowers and chocolates…this is a unique gift that lasts.
Goodnighties is the first and only sleepwear which combines attributes never before found in sleepwear fabric. Aside from ionization for better sleep, this soft unique fabric also moisture-wicks and is anti-microbial. Genuinely speaking, "Goodnighties is a 'dream' for the sleepless and a quick way to warm the heart of your significant other", said Goodnighties creator, Marcia Bacon.
According to the National Retail Federation in a 2011 poll of 8,913 consumers, men spend on average $158.71 on Valentine's Day. In ordinary times the big heart-shaped satin box of chocolates, flowers and dinner out, would be sufficient but in times of extreme stress, economic pressures and chaotic lifestyles, sleep has taken over as the must-have gift for the times. So it's official… valentines are great but Goodnighties sleepwear needs to be added to be really special.
Our culture today is a far cry from lovely Chaucer poems written during the Middle Ages which first aroused the idea of traditional 'courtly love' flourishing the Valentine tradition known today. 'Middle Ages' in modern times, is known as a time of intense responsibilities for many generations – this can then quickly morph into a cycle of sleeplessness. Whether you're a young mother or a more mature woman experiencing symptoms of [menopause, sleeplessness is sleeplessness. Additionally, 'middle ages' can also mean 'middle' as in high calorie foods which leads to weight gain in the stomach region. According to researchers at the University of Chicago, 'The lack of shut-eye alters appetite regulating hormones. The subjects tested reported feeling hungrier, with strong craving for calorie-dense, carb-rich foods, such as sweet, salty snacks like potato chips and starchy foods like pasta." This is a direct contributor to the alarmingly high obesity numbers that are also contributing to serious health issues.
The answer is moderation in food servings and 8 hours of restful sleep… so for thin or [plus size women this year, it's chocolate in moderation- a single delectable piece with a set of pajamas from Goodnighties that will have lasting appeal on many levels.
For more information - please visit [http://www.goodnighties.com
###