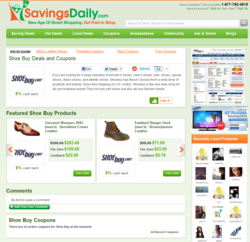 As a leader in convenience, selection, and discounted pricing, SavingsDaily.com not only offers ShoeBuy coupons to save consumers money.
(PRWEB) January 30, 2012
ShoeBuy.com is leading online retail store selling everything from Ugg boots to Vans sneakers recently partnered with SavingsDaily.com to offer daily deals and coupons to the members of social shopping site. With SavingsDaily.com, one of the most active deals and coupons sites, consumers can now get 8 percent cash back on purchased through ShoeBuy.com. ShoeBuy.com is a leading online retailer offering name brand women's, men's, and kid's shoes. Consumers who are scouring the Internet to find ShoeBuy coupons no longer have to search for hours for a coupon code. All of the shoes that are sold through the site are available at a discount so online shoppers can enjoy low prices without the coupons. In today's new age of smart shopping, fashionistas can look trendy without paying designer prices. None of the discounts through ShoeBuy.com require a coupon so consumers are not required to sift through valid and invalid codes just to save money.
ShoeBuy offers a wide range of different footwear. Online shoppers can browse the inventory on the site or search featured products that are currently marked down. Shoppers will feel good about the transaction because the site lists the retail price, the amount the shopper will save, and the total cash back received on each purchase. Every purchase through ShoeBuy is eligible for 8 percent cash back.
ShoeBuy also offers totes and sports bags for every athlete. Bags are discounted by as much as 70 percent. It is no surprise why online shopping has become the new way to save money for people in every income bracket. Consumers appreciate the fact that online shopping does not require coupon clipping, driving to and from the store, fighting traffic, or waiting in lines. The idea of buying shoes and other accessories from home has sparked the interest of people in different age groups from around the world.
Trendy shoppers can find athletic shoes, trendy shoes, comfortable shoes and the perfect handbags to match. Classified as the "World's Largest Site For Shoes", ShoeBuy also partners with companies like Expedia, Hotwire, Hotels, Ticketmaster, and Pronto. As an accredited member of the Better Business Bureau, ShoeBuy.com is a trusted retailer who protects customers with the VeriSign Secured logo.
As a leader in convenience, selection, and discounted pricing, SavingsDaily.com not only offers ShoeBuy coupons to save consumers money. The 8 percent cash back offer added to already slashed prices is a secret that ShoeBuy does not plan on keeping from shoppers across the world. For more information visit SavingsDaily.com or contact them via email at info[at]savingsdaily.com or by phone at 877-782-4815.
###