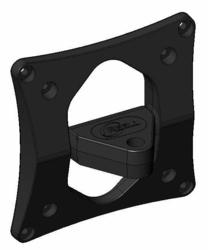 vTilt with 'One-Way' torque is ideal for positioning today's larger monitors
Saint Paul, MN (PRWEB) January 31, 2012
Reell has made one of the world's best monitor positioning solutions even better! By adding its patent-pending 'One-Way' torque technology to the precise position control, and consistent long-life of the vTilt product line, Reell has created a new performance standard for flat panel positioning.
'One-Way' torque technology nearly eliminates resistance to moving a monitor in the upward direction, without reducing the holding force in the downward direction. When combined with the superior performance of Reell's patented ReellTorq® technology, it makes upward adjustment of a monitor feel nearly identical to downward adjustment.
Product Manager Steve Romslo likes the premium feel. "Last year when we introduced the vTilt with Differential torque, customers were surprised with how well it held in place and how easy it was to move. 'One-Way' takes the ease of adjustment to a new level. Monitors can often be positioned using a single finger."
Vice-president of Sales and Customer Service Jack Field is excited about the applicability of the vTilt 'One-Way' for today's large monitors. "Eliminating the resistance during upward movement is especially important for large monitors," he said. "It means you can have the higher holding forces these monitors require, and adjustment feels magical. 'One-Way' torque provides an exceptional user experience."
All vTilt Monitor Mounts are designed to attach directly to either the 75mm or 100mm mounting holes of a standard VESA compliant monitor. vTilt has a compact design with an aesthetically pleasing shape and a durable nylon housing that completely seals all internal components and lubricant.
Reell Precision Manufacturing provides high-quality innovative solutions to transmit torque, control position and protect delicate components from excessive force. Combining the worlds most precisely controlled torque technology with the industry's most experienced engineering team guarantees a perfect product fit for customers applications. Reell's responsive global customer service and world class manufacturing ensures easy ordering and on-time delivery
For more information about Reell 'One-Way' torque technology, the vTilt Monitor Mount, or any of Reell's other products and services, please visit http://www.reell.com.
Follow Reell on twitter:@reell
###