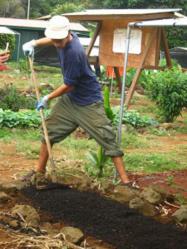 The garden offers a safer environment, more transferable skills, and a broader sense of community stewardship than is possible in a backpacking program.
Hilo, HI (PRWEB) January 31, 2012
Pacific Quest Wilderness Therapy is a program that bucks the trend of traditional therapeutic hiking programs. Putting down the old survival kits of the past, and learning skills on how to plant seeds and care for the future; Pacific Quest has taken the best ideas from wilderness therapy and implemented them into a 7 acre therapeutic garden in Hawaii. Rather than hiking in the snow, or traversing a desert, each week students at Pacific Quest harvest food from the organic garden for a nearby farmers market with all proceeds going to a local charity for kids. In addition, every month a group of parents participate in a two day family workshop that includes several opportunities for families to plant and harvest in the garden leaving behind a legacy of sungold tomatoes, black beauty eggplants, curly kale, and giant sunflowers. Sound like wilderness?
When asked to describe the difference between wilderness therapy and garden therapy, Pacific Quest's Land Supervisor, Travis Slagle says, "The garden offers a safer environment, more transferable skills, and a broader sense of community stewardship than is possible in a backpacking program." One example includes this past December, when Pacific Quest hosted a preschool field trip where teenagers and toddlers walked side by side in the garden. During the preschool visit, Pacific Quest students had the opportunity to teach an lesson on healthy eating and interact with the children as a milestone along their journey to adulthood. As a member of the Hawaii Organic Farmers Association, and the American Horticultural Therapy Association, Pacific Quest's wilderness programs utilize the latest evidence-based horticultural therapy practices to engage students in new perspectives on personal responsibility, healthy relationships, and sustainable life skills.
One truth about this particular garden in Hawaii is that it is naturally inspiring. Whether it's the buttery avocados that dangle above a student while they write in their journal, the vast ocean that you can look at while harvesting a batch of sugar cane and sweet potatoes, or watching the sun rise behind the coconut trees during morning stretches; this place is unlike any other outdoor therapeutic program. Similar to other nature-based therapies like wilderness and equine therapy, horticulture therapy could arguably be considered one of the most ancient forms of mental health treatment dating as far back as the early Greek civilization.
About Pacific Quest
Pacific Quest is an outdoor therapeutic program for struggling teens and young adults, located on the Big Island of Hawaii. Their wilderness programs offer a clinical, yet holistic approach to treatment, going beyond traditional wilderness therapy and teaching sustainable life skills. Pacific Quest's proprietary therapeutic model is a ground breaking approach that uses organic gardening to create concrete metaphors for its students as they cultivate their own health and happiness. Pacific Quest provides an environment that allows for a true discovery process for its students, a place that is safe, structured, experiential and natural. Owned and operated by a veteran team of professionals with hundreds of years of combined wilderness program experience, Pacific Quest offers a unique approach to treatment that is individualized for each student.
###