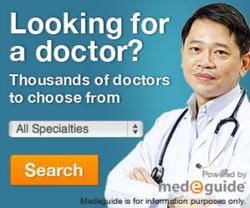 Kuala Lumpur, Malaysia (PRWEB) January 31, 2012
Readers of Malaysia's New Straits Times can now search for medical specialists on its online edition using a doctor finder powered by Medeguide, a web portal that features thousands of doctors at leading private hospitals throughout Asia.
Medeguide's doctor finder appears in the "Health" section of the New Straits Times online edition, and gives readers the ability to search doctors and request appointments with medical specialists from Malaysia's leading private medical centres, including Sime Darby Healthcare, Prince Court Medical Centre and Sunway Medical Centre.
Medeguide currently features over 400 Malaysian doctors on its platform and is targeting to have 1,000 Malaysian doctors by the end of the year.
Medeguide CEO and Founder, Ruben Toral, says that consumers are increasingly turning to the web and mobile devices for health and medical information and adding a doctor finder inside a leading news site, like the New Straits Times, is a natural fit. "We make doctors more accessible," says Toral. "People need help finding the 'right' doctor and that's exactly what we do."
Toral says that Medeguide creates tools that help patients and doctors connect online. The company powers the doctor finder for hospitals, like Sime Darby Healthcare, publishes consumer newsletters, and develops apps for the iPhone.
The collaboration with the New Straits Times is the first in series of regional media partnerships that Medeguide is developing in 2012.
About the NSTP
Established in 1845, The New Straits Times Press (Malaysia) Berhad (known as NSTP) is Malaysia 's oldest and largest newspaper publisher. Listed on Bursa Malaysia, the NSTP Group's stable of publications now stands at six – New Straits Times, Berita Harian, Harian Metro and their Sunday editions – the New Sunday Times, Berita Minggu, and Metro Ahad respectively.
About Medeguide
Medeguide is an online doctor directory that lists top doctors from leading hospitals in popular medical travel destinations in Asia and Latin America . Medeguide allows users to find doctors by country, hospital, specialty, procedure or condition. Medeguide's powerful, easy-to-use online platform enables users to review doctor profiles, request appointments, and read articles about top doctors, treatment options and hospitals.
###