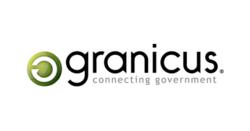 Our growth outpaced many in our industry, and we continue to attract new customers because of our exclusive focus on making government successful through cloud-based technology
San Francisco, CA (PRWEB) January 30, 2012
Granicus, the award-winning cloud platform provider for government transparency, efficiency and citizen engagement, today announced record growth across many areas of its business in FY 2011 including sales, revenue, products and customers:

Sales Growth – 2011 sales performance has increased by 90% over 2010
Revenue Growth – 2011 revenues have increased by 30% over 2010
Agenda Management Growth – 100% sales growth rate over 2010
State & Federal Market Services Growth – 600% sales growth rate over 2010
Cloud Reliability Growth – The Granicus cloud reached 99.95% uptime month-over-month
Customer Growth – Granicus added over 200 new customers to its family in 2011 – 21% growth over 2010
"Our growth outpaced many in our industry, and we continue to attract new customers because of our exclusive focus on making government successful through cloud-based technology," said Tom Spengler, CEO and Co-Founder of Granicus. "This exciting momentum sets the tone for 2012 — Granicus is going to continue to invest heavily in our products and customer care. We also want to continue delivering reliable products that accelerate government performance across critical business areas to save time, money, and improve service delivery — these areas include legislative operations, transparency, and citizen outreach and involvement."
Granicus attributes its record sales and revenue growth in 2011 to these major milestones: 1) the successful acquisition and integration of an agenda management product; 2) continued focus on delivering product value; and 3) the expansion of its state and federal government business.
For Granicus, delivering technology that digitizes and automates governments' workflows has always been a priority. In 2011, the company acquired Daystar Computer Systems to add even more rich features its Legislative Management Suite product to help government staff manage and track their policy-making process from start to finish. Since making this decision, Granicus' agenda management sales have increased 100% over 2010 and the company recently celebrated the addition of its 100th government customer to its Legislative Management Suite.
Granicus was also able to add over 100 more customers to other product suites on its cloud platform in 2011. Aside from the Legislative Management Suite, Granicus saw the most government adoption of these particular products: Government Transparency Suite, Meeting Efficiency Suite, and the Citizen Participation Suite. This growth is largely due to the explosive demands from government to migrate their workforce to digital, cloud-based technologies that save money and help them deliver better services to their citizens.
"Granicus' cloud-based solutions are helping government solve critical business problems and build trust with their constituency. We're transforming manual, time-consuming government work into a powerful online digital workflow that saves money and generates more opportunities for citizens to get engaged and involved in government through the web. It's a win-win for everyone," added Spengler.
The final growth area for Granicus in 2011 was in its state and federal government services business. Due to increased demands, Granicus is deploying a higher rate of turnkey professional services to help state and federal agencies, like the New York City Office of the Comptroller, the National Institutes of Health, and the Nuclear Regulatory Commission, set-up and deliver live and archived webcasts of their public hearings to encourage broader public awareness and participation. The company manages the entire event including audio and video equipment, production, webcasting, online archiving and publishing, as well as, video indexing, closed-captioning, and transcription creation. These comprehensive services enable agencies to publish their meetings online in the most transparent and user-friendly formats.
About Granicus
Granicus, Inc. is the award-winning cloud platform provider for government transparency, efficiency, and citizen participation. It offers the first cloud platform and product suites designed specifically to help government agencies establish meaningful connections with citizens while reducing operational costs. Granicus has been recognized the past four years for being one of the fastest growing company private companies in the U.S., San Francisco, and the Silicon Valley by Deloitte LLP, the San Francisco Business Times, and Inc. Magazine.
###