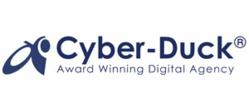 Everyone at the London Cardiovascular Clinic is thrilled with the finished product and we thank Cyber-Duck for their knowledge and attention to detail.
London (PRWEB UK) 31 January 2012
Cyber-Duck, an award winning digital agency based in London, have announced their second major client launch of 2012 with a website for Private London Cardiologist professionals, the London Cardiovascular Clinic. The production boasts a modern, clinical design which has been customised to deliver an exemplary user experience to the company's international audience.
London Cardiovascular Clinic is a private London-based clinic offering cardiology treatment for a range of complex cardiac problems. The company approached Cyber-Duck with a brief to completely rejuvenate their website, ensuring it matched the superior level of care provided at the clinic. After a vigorous agency selection process, the company opted for the services of Cyber-Duck.
Cyber-Duck's user-centred design process has evolved over 7 years, and entails continuous stakeholder feedback, user testing and competitor research to ensure a supreme user-experience in the end product.
After research uncovered that mobile users made up a significant proportion of the existing website visitors, it was also important that this was taken into consideration. This led to the decision being made that the most inclusive approach would be to use an adaptive web design philosophy; meaning that the website adapts to a range of screen resolutions to provide an optimum experience no matter what device.
The resulting website boasts a visually stunning, user-centred design which is fully manageable from a customised Content Management System, meaning the London Cardiovascular Clinic team can easily create and update any content on the website and blog.
Integral to the strategy behind the website was that video was to be a significant element; Cyber-Duck produced videos which demonstrated the top of the range facilities at the clinic, as well as members of the team talking about the services offered.
On top of this, the website was built not only with the user, but also search engines in mind, ensuring that already high keyword rankings were retained wherever possible, and providing a solid platform to increase search engine visibility further still.
In conjunction with the launch of the new website, the London Cardiovascular Clinic's Cardiologist Dr Iqbal Malik was interviewed at Hammersmith Hospital by Krishnan Guru-Murthy for Channel 4 News. Dr Malik was interviewed by Channel 4 on the decreasing number of heart attacks in the UK, and he spoke in depth about the reasons behind this decreasing number, the process todays doctors have to go through when treating a patient, as well as providing a detailed description of how todays heart surgeons use an angiogram to determine if a heart condition is present.
Dr Iqbal Malik said upon launch of the website, "Everyone at the London Cardiovascular Clinic is thrilled with the finished product and we thank Cyber-Duck for their knowledge and attention to detail. Their innovative "basecamp" communication system really helped us communicate our needs, and we were impressed at how close the final delivery was to the original timelines."
Cyber-Duck's Managing Director Danny Bluestone was full of praise for the project team, "A great deal of time and effort was put into the new London Cardiovascular Clinic website and it's safe to say the new production is one we are all proud of. I think we have produced yet another inspiring production, which I'm certain will be followed by plenty more."
About Cyber-Duck
Cyber-Duck Ltd is an innovative and pioneering digital agency and consultancy specialising in delivering award winning User-Centred Solutions. The company works with over 100 global businesses ranging from businesses and organisations such as the European Union, NordicBet, BAM, Jewson, Halcyon Gallery and Arsenal FC.
Utilising the latest web 2.0 and SaaS technologies, powerful eCommerce solutions, stylish branding and expert online marketing, Cyber-Duck provides comprehensive solutions that streamline business processes and drive conversions. Cyber-Duck's five core services are Web & Mobile and SaaS Technology, UX Consultancy, Branding and Marketing.
About London Cardiovascular Clinic
The London Cardiovascular Clinic is a leading private cardiology clinic that offers personalised and expert cardiovascular treatment for a diverse range of symptoms. London Cardiovascular Clinic offers a one-stop service with onsite non-invasive laboratory.
Our Cardiologists expertise covers the breadth of Cardiovascular Medicine, from the assessment of common symptoms such as chest pain, palpitations, high blood pressure and shortness of breath to the treatment of very complex cardiac problems.
###