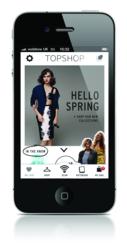 Thanks to Red Ant's technical prowess and mobile expertise we have been able to deliver a truly bespoke experience that reflects the Topshop brand and supports our mobile strategy.
London, UK (PRWEB UK) 31 January 2012
Topshop, the leading name in high street fashion retail, had already recognised the immense potential of their mobile channels, with a significant percentage of their online sales coming from mobile devices. Topshop required a bespoke approach to the project and a flexibility that is afforded by the Red Ant platform.
Using in-house expertise in delivering market-leading apps, Red Ant worked closely with the Topshop digital team to deliver:

A new channel for sales and engagement, with opportunities for significant growth in the mid-to-long term
A highly polished, market-leading interface and featureset
Enhanced in-store and social engagement features including scanning, sharing and favourites
Exclusive implementation via the existing eCommerce setup, requiring minimal work from Topshop systems teams
Working in collaboration with the team at Topshop, Red Ant used its robust technical expertise to deliver the brand's strategy and vision – helping to identify the best and most customer-appropriate featureset and creating an exciting roadmap for future releases. Keeping Topshop's brand identity and customer experience at heart, the result is a feature-rich, user-focused app which:
Uses barcode and QR scanning and location awareness to bridge their on- and offline marketing activities in a brand new way
Draws together their various digital and social media channels (blog, videos, Facebook, Twitter, Tumblr, and one-off campaigns like London Fashion Week)into one place
Offers seamless product sharing to generate customer buzz
Delivers fully transactional shopping to their app users and drives impulse purchasing by offering daily catalogue updates as a way to keep up with the 300+ new pieces Topshop introduces every week
Offers a completely flexible and future-proofed platform for new developments
Within just 4 weeks of launch, the app has already seen more than 280,000 downloads, an average 4.5 star rating in the App Store, and an overwhelmingly positive response on social media channels.
Red Ant's Director of Mobile Dan Hartveld said: 'We're really excited about the opportunities that this app opens up for Topshop. A fully transactional app is now what users expect from a major retailer's mobile presence. The Topshop iPhone app's social integration and in-store crossover features also mean Topshop can truly integrate with consumer lifestyles and create seamless multi-channel experiences - something many fashion retailers have been unable to achieve. All this, with minimal impact on their existing infrastructure.'
Topshop's Head of E-Commerce Kate Walmsley said: 'We are thrilled by the enthusiastic response from our customers. Thanks to Red Ant's technical prowess and mobile expertise we have been able to deliver a truly bespoke experience that reflects the Topshop brand and supports our mobile strategy. We look forward to delivering the exciting roadmap of new developments and features to come.'
About Red Ant
Established in 1999 and with an in-house team of full-time digital experts, Red Ant is a digital strategy agency with offices in the UK, Republic of Ireland, China and Brazil, delivering return on investment solutions to meet business objectives and campaign aims. Using a four-stage approach – planning, creating, actualising and evaluating – Red Ant develops digital strategies which enable clients to listen to customers, talk to potential clients, engage with relevant audiences and increase revenue opportunities at every stage.
Red Ant Mobile enables businesses to take full advantage of the rapidly evolving mobile market, providing a full range of services from expert advice on mobile strategy to the development and delivery of custom mobile applications.
Red Ant Mobile apps cover everything from small promotional tools to fully-fledged retail and social experiences. Red Ant also licenses its own Colony Mobile platform, specifically designed to allow existing retailers to offer a mobile storefront with minimal effort.
Red Ant has authored a series of major whitepapers which have attracted worldwide interest, including Going Mobile - a How-to Guide and Planning and Managing a Digital Strategy, which are available for download free of charge: http://www.redant.com/download-our-white-papers/
For more information, visit http://www.redant.com
###