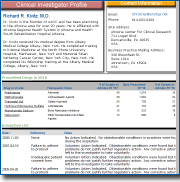 Norwood, MA (PRWEB) January 31, 2012
Throughout the global biopharmaceutical industry, clinical operations professionals are responsible for the success of critical clinical trial programs. Given their escalating cost and the increasing urgency to make go/no go decisions as early as possible, it is essential to support them with the most reliable and actionable information available.
At CHI'S SCOPE Summit for Clinical Ops Executives (Feb 7-9 in Miami, FL), BioPharm Clinical™ will showcase its exclusive system to enable more reliable and efficient study feasibility assessments and investigator/site selection. BioPharm Clinical is a cost-effective and innovative clinical operations solution comprised of:

Real-time global trial analytics featuring exclusive milestone timeline calculations
The most comprehensive database of individual investigators including proprietary indication relevancy scores based on dozens of factors, FDA inspection records, publications, key opinion leader relationships, patient pool prescription data and more
In advance of the summit, BioPharm Clinical is offering complimentary two-week trial access to clinical operations professionals at CROs, patient recruitment companies and biopharmas, among others. To sign up for a trial account, visit the new http://www.biopharmclinical.com.
SCOPE attendees are invited to attend a pre-summit cocktail reception and happy hour co-sponsored by BioPharm Clinical and Praxis on Monday, February 6 from 6-8pm at the Democratic Republic of Beer nearby the Hilton Miami Downtown. For details and to RSVP:
http://www.zoomerang.com/Survey/WEB22EHT89TX9P
Attendees may also visit the BioPharm Clinical exhibition booth to receive a hands-on walkthrough of the system, perform custom searches for their areas of interest and upcoming trials, and preview major product functionality announcements coming soon.
About BioPharm Clinical
BioPharm Clinical is an exclusive support solution for clinical operations professions, providing real-time trial analytics and the most comprehensive database of sites and investigators. Clients benefit from proprietary calculations tailored to their particular trial requirements, detailed milestone timelines and more as they make critical study feasibility assessments and evaluate investigators for their global programs. To learn more, visit http://www.biopharmclinical.com.
About Infinata, Inc.
Featuring a comprehensive BioPharm Solutions Suite, unique Wealth Prospecting tools and innovative Custom Data Services, Infinata provides personalized technology solutions to turn information into insight. Infinata is a part of Mergermarket, a Financial Times Group company and a division of Pearson plc. To learn more, visit http://www.infinata.com.
# # #