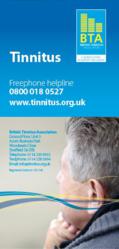 (PRWEB UK) 30 January 2012
To coincide with the start of Tinnitus Awareness Week (6-12 February), the British Tinnitus Association (BTA), the UK's only charity solely dedicated to supporting those with tinnitus and their families, has published a new tinnitus leaflet and poster sharing updated information and advice about tinnitus management.
Tinnitus is common; about 10 per cent of the UK adult population have permanent tinnitus. Experiences of tinnitus are very common in all age groups, especially following exposure to loud noise.
Not an illness or disease, tinnitus is a term that describes the sensation of hearing a noise in the absence of an external sound. The noise can have virtually any quality. Ringing, whistling, and buzzing are common, but more complex sounds may also be reported. Troublesome tinnitus can be very distressing for the affected individual, and issues may arise with sleep, concentration and mood.
In many cases, however, subtle changes in people's environment can address these issues, and improve quality of life. The advice within the leaflet aims to reassure tinnitus patients that there are plenty of simple ways to make a real difference to living with tinnitus. These include:

Visit your GP – there are treatment options available and GPs will be able to refer you to someone who can help
Relax – regular relaxation (such as tai chi, qi gong, yoga, meditation, relaxing music) can reduce the loudness of tinnitus, and also helps to break the vicious circle of stress and anxiety that often accompanies experiences of tinnitus
Keep active – work, leisure pursuits and other interests can help to provide a worthwhile focus
Exercise – regular exercise can help people to ignore and cope with their tinnitus more easily
Avoid silence – reduce the intrusiveness of tinnitus by having environmental sounds playing at a comfortable level in the background
Personal contact – the BTA helpline is available to offer support, and can provide details of local groups and contacts
At night – having some low level sound can help mask tinnitus
Join the BTA – keep up to date with the latest research from the BTA's journal Quiet, and receive discounts on products to help cope with tinnitus
The British Tinnitus Association's new tinnitus leaflet is available on request. Please contact the charity on 0800 018 0527 or email info(at)tinnitus(dot)org(dot)uk.
Editors Notes:
The BTA is an independent charity which supports thousands of people who experience tinnitus and advises medical professionals from across the world.
The British Tinnitus Association strives to be the primary source of support and information for people with tinnitus in the UK, thereby facilitating an improved quality of life. It aims to encourage prevention through its educational programme and to seek a cure for permanent head noise through a medical research programme.
The experienced team at the BTA understands the impact that tinnitus can have on the lives of those who experience tinnitus and those who live with them, so seeks to provides the most appropriate and expert advice and information free of charge – via a confidential freephone helpline on 0800 018 0527 and online at http://www.tinnitus.org.uk. The BTA can also post printed and audio information and advice.
Visit the BTA's Facebook page at http://www.facebook.com/BritishTinnitusAssociation and follow the BTA on Twitter at http://www.twitter.com/BritishTinnitus
For more information
Contact: Zoe Hiljemark, PR Account Director / Jenny Pearce, Senior PR Account Executive
E-mail: zoe(at)marketing-matters(dot)co(dot)uk / jenny(at)marketing-matters(dot)co(dot)uk
Tel: +44 (0) 1202 777111 / +44 (0) 7770 924439
Address: Marketing Matters, Unit C, Acorn Business Park, Ling Road, Poole, Dorset, UK, BH12 4NZ
###