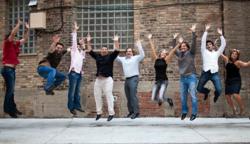 No matter where you are in the real estate industry, these serious wealth-building secrets will have you living the good life in no time
Louisville, KY (PRWEB) January 31, 2012
Real estate professionals know that building a lucrative income takes time, dedication and plenty of luck. Now LifeSuccess Consultant Simone Mancuso will show a few lucky investors how to attract an abundance of wealth at truelife360's special Short Sale Rehab event.
From February 10th to the 12th in West Palm Beach, FL, the gurus behind real estate investment group truelife360 will reveal insider secrets on how to close more deals, in less time and with less work. By highlighting success and sales training with coach Mancuso as a special guest speaker, individuals are already lining up to take part in this extraordinary event.
"It's a real honor to be invited to truelife360's notorious 'Short Sale Rehab' event says Mancuso. "It's my hope that I can show my audience the real secrets to skyrocketing real estate income, even in today's fragile housing market."
As a business partner to Bob Proctor, author of the international best-selling phenomenon "The Secret", and a certified LifeSuccess Consultant, Mancuso is an undisputed expert in the Law of Attraction and how it relates to building wealth. She's helped clients in the greater Louisville, KY area uncover the secrets of attracting a lucrative lifestyle – and now she's ready to share her expertise at truelife360's "Short Sale Rehab" event.
Guests can expect Mancuso to discuss pertinent issues in the real estate industry, including how to determine how much money is enough money, how to attract the good life, the Babylonian Law of Financial Success, and other jaw-dropping success secrets.
"No matter where you are in the real estate industry, these serious wealth-building secrets will have you living the good life in no time," Mancuso points out. "Better still, I'll be showing my audience secrets that have never been heard of before – not even in major Law of Attraction publications."
The truelife360 "Short Sale Rehab" event will be held on February 10th-12th at the Palm Beach County Convention Center in West Palm Beach, FL. Registry for the three-day event is $297, with hotel reservation discounts at the Marriott West Palm Beach. Register at http://www.truelife360.com/events/.
About Simone Mancuso
Simone Mancuso is an independent LifeSuccess coach with more than 20 years of experience in the coaching and sales industry. She has also been actively involved in the real estate industry, having founded SnH Homes in Louisville, KY and serving on the board of the Kentuckiana Real Estate Investors Association. In addition to her professional achievements, Mancuso is also an accomplished equestrian, having competed at Grand Prix levels and ranking as high as 7th in the nation. Discover more about Simone Mancuso at http://www.mypersonalbusinesslifecoach.com.
###