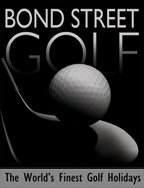 We can provide access to the "tick list" courses that no one can get on
(PRWEB UK) 31 January 2012
Bond Street Golf who are the official golf partner for American Express Centurion and Platinum and other Concierge services have announced today that their ultra high-end programme linked with golfholidays.com, French Golf Holidays and GolfPlanet, has enjoyed growth beyond expectations in 2011 and early signs show that 2012 is going to go even better.
Morgan Clarke, Managing Director of Bond Street Golf said "I believe our success has come from a unique ability to provide a service for the golfer who has everything. We can provide access to the "tick list" courses that no one can get on…Unless you're ready for a five year waiting list, know several of the club members and are ready to go through the interview process. We provide a short-cut to the first tee so that our clients can play the courses they've always wanted to play but thought they couldn't get on"
Bond Street Golf's clients range from private companies, professional sportspeople, couples wanting the very best to four golfing pals on a mission to play the Top 20 in the world. They are Part of Hardelot Holidays Limited which is the longest-established golf holiday company in Europe.
Morgan continued to add "There are over 32,000 courses around the world and we think there are just under 450 which deserve to be ranked as the very best. And within that 450 there's another division where exclusivity comes into play. With golfholidays.com, we have access to several thousand courses and that satisfies the vast majority of golfers but Bond Street Golf can offer those the "closed" courses too. Of course, a day's golf at these courses comes at a price but some of them are surprisingly inexpensive and others are quite hard on the wallet. We've found that budget is not an issue - price doesn't come into the decision making process for these clients. They've succeeded by getting what they want and, as with our luxury items, the price is what it is. It's the getting it that's important. Our clients are treated like members for the day wherever they play and they've got memories that will last a lifetime and another course to take off their "must play" courses. As well as the finest golf courses in the world, we arrange suitable accommodation and transportation and if required, a host to add a little glamour to the day. Having past and present Tour Pros add a lot of fun and style to the occasion".
Pressed as to which courses he can offer, Morgan replied "No comment. If we told you that, our relationships with these courses would be sacrificed. Suffice to say that we've satisfied every client demand so far."
# # #