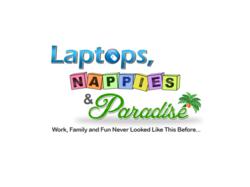 "Everyone thinks that raising a family, living all over the world and being successful business owners is a paradox. We don't think it is. And there's a whole growing community of people doing the same thing that can also vouch for that view"
New York, NY (PRWEB) January 31, 2012
The traditional vision of an entrepreneur: early 30-something Silicon Valley type looking to start an internet company. This traditional entrepreneur is usually single, seen in Starbucks in a blazer and jeans. On a cell phone, laptop in tow, ready to change the world.
But, according to the new Laptops, Nappies and Paradise site that's not what today's entrepreneurs look like. Fueled by a bad economy and fewer opportunities back at home and in corporate America, the new entrepreneur is just as likely to be starting a business from Thailand or Argentina as they are from the US. Or in many cases, from no particular location at all. The 2012 entrepreneur is also not necessarily the "Mark Zuckerberg" type: a young college grad with nothing to lose, fresh out of college with an idea and a healthy dose of passion. The 2012 entrepreneurs have families, decades of experience, MBA's even.
So, why this shift? According to David McKeegan, "For years, Carrie and I had dreamed of starting our own business. But the opportunities afforded to us by our jobs in finance and marketing were just too great to walk away from. However, with the decline of the economy and the subsequent lowering of the "opportunity cost" that resulted, it seemed like the perfect time to go off on our own. As one door closed, another opened. "
Similarly, Carrie says "When we decided it was time to re-invent ourselves, we also decided it was the perfect time to incorporate all of our dreams. We've always been avid travelers, wanting to really experience every bit of the world, and had that dream for our children as well. So, instead of pursuing a business idea that confined us to one location, we narrowed our list to ones that would enable us to live where we wanted, when we wanted." Carrie and David started their business in 2009, left their traditional jobs in 2009 and 2010, and set off on the location independent lifestyle with their 3 month old son in 2010. Since then, their business has doubled each year, and they've lived in Bali, Indonesia; Barcelona, Spain; Rio De Janeiro, Brazil; Montevideo, Uruguay and are currently in Mendoza, Argentina.
Carrie and David McKeegan, founders of Greenback Expat Tax Services, and writers of the blog, Laptops Nappies and Paradise, are just one example of the types of people starting businesses today. According to David,"Everyone thinks that raising a family, living all over the world and being successful business owners is a paradox. We don't think it is. And there's a whole growing community of people doing the same thing that can also vouch for that view." The term "location independent professionals" and "location independent parents" was coined back in 2007 by Jonathan and Lea Woodward, when this movement first started. The continued economic decline has only fueled the number of people taking the plunge. Just as the incentives for entrepreneurs is at an all time high, so is the technology allowing individuals to run their businesses from anywhere. As Carrie said, "It's the perfect storm for location independent professionals. There's never been a better time to realize your dreams!"
Laptops, Nappies and Paradise is a new blog written by Carrie and David McKeegan, who are aiming to spread the word about the location independent professionals and parents movement.
###