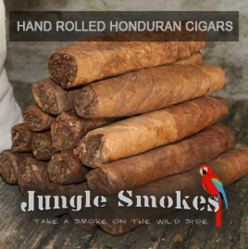 If you want to buy cigars online, it's more of a gamble, since you cannot smell them or even inspect the cigars up close. That's one reason we keep our cigar prices low, because we want you to feel comfortable experimenting them.
Saint Paul, Minnesota (PRWEB) January 31, 2012
Why waste money buying "high-end" cigars or risk breaking the law smuggling Cubans, when Jungle Smokes' Honduran Cigars provide an unmatched sensory sensation?
Jungle Smokes' hand rolled cigars have three types of carefully selected tobacco, which impart a full-bodied aroma that everyone from the aficionado to the beginner can enjoy. The online cigar shop sells everything from singles to packs of 50, with prices starting as low as $1.60 per cigar. The combination of fine flavor and low cost is unexpected, but much appreciated by those looking for the perfect "daily cigar" and those hesitant about shopping online.
Every Jungle Smokes product is made in a small Honduran village by artisans with centuries of cigar tradition and know-how. The cigars are densely packed and uniform, which ensures a long, slow burn. Since every cigar is crafted by hand, no two look exactly alike, and each one has its own unique feel (unlike boring, homogenized machine cigars).
Their online store is one of the few offering 100% hand rolled cigars from Honduras, but what makes them truly exceptional is the type of tobacco included in the product. Each cigar contains the same tobacco leafs prized by the Mayans and discovered by Columbus hundreds of years ago. There is a reason this tobacco has withstood the test of time, and Jungle Smokes is honored to be part of that heritage.
The owners of Jungle Smokes are excited to share their extraordinary product with the world and are proud to say their cigars are made with responsibly grown plants and created and shipped using renewable resources. Those wanting to enjoy some of Jungle Smokes Honduran cigars can buy cigars online confidently through their store at http://www.junglesmokes.com. To maintain quality, all cigars are hermetically packaged and orders always arrive quickly.
Jungle Smokes is proud to use Spark Logix Studios, a MN web design company.
###