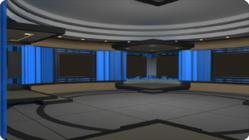 LiteSets™ lower the cost of quality virtual set backgrounds for green screen production.
Las Vegas, NV (PRWEB) January 31, 2012
Virtualsetworks LiteSets™ Volume Two brings exciting new virtual sets in at a lower cost than traditional Studio Sets. Designed to chroma key your green screen talent in front of, LiteSets™ are virtual set backgrounds that you can use directly in your editing program like Adobe Premiere, Apple's Final Cut Pro™, Avid, Vegas™, or compositing programs like After Effects™, Motion™, Fusion™, or hardware like NewTek's Tricaster™, or Broadcast Pix Slate™ and many more .
LiteSets are constructed from the ground up in house using the latest hardware, software, lighting solutions, and processes to give you the highest quality standard definition or high definition virtual set backgrounds.
You can purchase and download Virtualsetworks virtual sets individually or in a pack of 20 from their website http://www.virtualsetworks.com as well as hundreds of other virtual set backgrounds from their Studio Sets™ and AnimSets™ lines offering budgets for all ranges of production.
Virtualsetworks virtual sets are designed to be easy to use yet powerful, offering multiple layers of content for each virtual angle allowing the user to composite their talent seamlessly into the virtual set environment in a variety of software and hardware. Virtualsetworks products are available as still images and animated sequences in standard definition, high definition, stereoscopic, 3D scenes for Newtek's Lightwave™ and Autodesk 3D Studio Max™, and NewTek's Tricaster Pro, Tricaster Studio, Tricaster Broadcast, Tricaster XD300, Tricaster XD450, and Tricaster XD850.
Watch our virtual sets in action here:
http://www.youtube.com/user/Virtualsetworks/videos
Or download a trial virtual set here:
http://www.virtualsetworks.com/Demo.aspx
About Virtualsetworks LLC
Created to help producers and editors access high quality virtual set content at a fraction of traditional set prices, Virtualsetworks continues to set the benchmark for cost effective stock virtual set content and design.
###