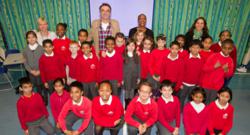 Not only are we giving young Londoners free tickets to watch the spectacle of sport, hundreds of youngsters will have a once in a lifetime opportunity to actually take part in the biggest event on the planet, watched by millions of people around the world
(PRWEB) January 30, 2012
To mark 6 months to go to the Opening Ceremony of the London 2012 Olympic Games, the London Organising Committee of the Olympic and Paralympic Games (LOCOG) have announced that the under 16s Volunteer Performer Cast for the London 2012 Olympic and Paralympic Opening and Closing Ceremonies will be selected from schools in the six Host Boroughs that are in the 'Get Set network', the official London 2012 education programme, and incorporating the Olympic and Paralympic Values into their curriculum.
Children chosen from Host Borough schools
18 primary and 7 secondary schools in the six Host Boroughs have been involved in an audition process for the London 2012 Olympic Opening Ceremony involving children aged 7-9 years and 11-13 years. In total 1,650 children auditioned for the London 2012 Ceremonies Mass Movement Team, undertaking large scale choreography as well as dance routines. More than 900 children will be selected over the coming weeks to perform in the Opening Ceremony on July 27th 2012, watched by 80,000 people in the Olympic Stadium and a worldwide TV audience of over a billion people.
For the selected children there will be between 15 and 20 rehearsals taking place initially at the selected schools, then in East London at London 2012 Ceremonies rehearsal sites and finally in the Olympic Stadium. LOCOG is providing transport between the schools and the rehearsal venues for the young people.
Seb Coe, London 2012 Chair, said: 'Being part of the Ceremonies is a great way of inspiring young people, I'm delighted school children from the Host Boroughs will be part of show and help tell our story to world. The students involved will have an incredible experience which will build their confidence and a sense of pride in themselves, their friends, family, school and wider community.'
Boris Johnson, Mayor of London, said: 'We want to create a legacy from the Games by inspiring our young people and ensuring they are at the heart of the celebrations. Not only are we giving young Londoners free tickets to watch the spectacle of sport, hundreds of youngsters will have a once in a lifetime opportunity to actually take part in the biggest event on the planet, watched by millions of people around the world.'
Selected schools from the six Host Boroughs will be auditioning in February for the London 2012 Olympic Closing Ceremony. More details on selection of schools within the six Host Boroughs for the London 2012 Paralympic Opening and Closing Ceremonies will be announced at a later date.
Applications are open until 22 February for adult volunteer performers to audition to participate in the Opening and Closing Ceremonies of the London 2012 Paralympic Games. LOCOG are searching for 5,000 volunteer performers to fill roles as dancers, actors, percussionists and general all-round performers. People can find more information and register their interest for this opportunity by completing the online application form at http://www.london2012.com/ceremoniescasting
For further information please contact the London 2012 Press Office.
Notes to editors:
Press materials

Download images of Danny Boyle visiting a school selected to audition for the Olympic Opening Ceremony here.
Download images of Danny Boyle with the Ceremonies Team here
B-roll footage from the school auditions in January and adult volunteer performer auditions for the Olympic Ceremonies in December is available by contacting the LOCOG Press Office.
B-roll interview footage with Danny Boyle and Stephen Daldry is available by contacting the LOCOG Press Office.
Schools that have auditioned for the London 2012 Olympic Opening Ceremony are:
NEWHAM

Essex Primary School
Colegrave Primary School
Hallsville Primary School
Lister Community School
Cumberland School
GREENWICH

Crown Woods College
Nightingale Primary School
Heronsgate Primary School
Sherington Primary School
BARKING AND DAGENHAM

All Saints Catholic School
Hunters Hall Primary School
Grafton Junior School
Warren Junior School
WALTHAM FOREST

Heathcote School & Science College
St Josephs RC Junior School
Henry Maynard Junior School
Jenny Hammond Primary School
TOWER HAMLETS

Langdon Park School
Marner Primary School
Manorfield Primary School
Marian Richardson Primary School
HACKNEY

Gainsborough Primary School
Brook Community Primary School
Sir Thomas Abney Primary School
Skinners Academy
London 2012 Games partners:
The Worldwide Olympic Partners who support the London 2012 Olympic Games and the National Olympic Committees around the world are Coca-Cola, Acer, Atos, Dow Chemical Company, GE, McDonald's, Omega, Panasonic, Procter and Gamble, Samsung and Visa.
LOCOG has seven domestic Tier One Partners - adidas, BMW, BP, British Airways, BT, EDF and Lloyds TSB. There are seven domestic Tier Two Supporters – Adecco, ArcelorMittal, Cadbury, Cisco, Deloitte, Thomas Cook and UPS. There are now twenty-eight domestic Tier Three Suppliers and Providers – Aggreko, Airwave, Atkins, Boston Consulting Group, CBS Outdoor, Crystal CG, Eurostar, Freshfields Bruckhaus Deringer LLP, G4S, GSK, Gymnova, Heathrow Airport, Heineken UK, Holiday Inn, John Lewis, McCann Worldgroup, Mondo, NATURE VALLEY, Next, Nielsen, Populous, Rapiscan Systems, Rio Tinto, Technogym, Thames Water, Ticketmaster, Trebor and Westfield.
There is one domestic Tier One Paralympic Games-only Partner, Sainsbury's and one domestic Tier Three Paralympic Games-only Supplier, Otto Bock. The London 2012 Paralympic Games also acknowledges the support of the National Lottery.
###