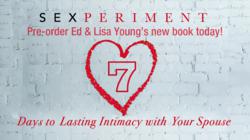 For too long the church has been silent about something God is not. It's time to bring the bed back into the church and God back into the bed.
Grapevine, TX (PRWEB) January 31, 2012
Ed and Lisa Young, both pastors and authors, new book Sexperiment: 7 Days to Lasting Intimacy with Your Spouse has caught the eye of media attention since before its release on January 10, 2012, is now a New York Times best seller. Ed Young has authored 14 books including Sexperiment, two of which are co-authored by Lisa Young.
The Youngs, who have recently appeared on CNN, Fox News, and in countless TV, radio, and print pieces, have been traveling throughout the country, promoting the book's main premise, that sex and marriage done God's way will lead to relational success both inside and outside of the bedroom. As co-author Ed Young has recently stated, "For too long the church has been silent about something God is not. It's time to bring the bed back into the church and God back into the bed."
To bring greater awareness to the state of marriage in our culture, Ed and Lisa recently hosted a 24 hour "bed-in" on the top of their church in Grapevine, TX. As viewed in over 150 countries, they participated in live interviews, both in person and via Skype. They also answered relationship questions live via Twitter, and Facebook. And some of Young's most popular teachings about sex and relationships were highlighted.
The couple believes that while not solving these problems entirely, seven consecutive days of sex will help couples begin the process of reconnecting their marriage, refocusing their attention, and reigniting their intimacy. Throughout the pages of Sexperiment, readers find practical suggestions and anecdotes that help both husbands and wives examine their own behaviors, understand what they need to do to make their partner want to have sex with them, and become focused on strengthening their marriage through renewed closeness.
FaithWords publishes engaging and relevant Christian books for seekers and people of faith. FaithWords has grown a solid list of high-profile authors including bestselling authors Joel Osteen, Joyce Meyer, David Jeremiah, John Eldredge, Philip Yancey and Charles Swindoll.
Sexperiment
7 Days to Lasting Intimacy with Your Spouse
Ed and Lisa Young
978-0-446-58272-8
$21.99, Hardcover
January 2012
About Ed and Lisa Young
ED YOUNG is the founding and senior pastor of Fellowship Church and is a noted author and conference speaker. Known for his creative communication style, Ed has a passion for making the complex, simple as he speaks truth to people in ways they can understand and apply to their everyday lives.
LISA YOUNG is the wife of Pastor Ed Young of Fellowship Church. In addition to co-writing with Ed on several books, Lisa hosts Flavour, a women's ministry born out of her desire to empower and equip women everywhere to discover their true worth and value in God's eyes and become world-changers.
Ed and Lisa have been married for twenty-nine years and have four children.
About Fellowship Church
Fellowship Church is more than just one dynamic church in five diverse locations. Fellowship Church, led by Pastor Ed Young, is a community of people led by Christ to bring hope, strength, and change to the world.
To learn more about Fellowship Church visit: http://twitter.com/edyoung, http://vimeo.com/ey or YouTube.com/EdYoung.
Press Contacts:
Andy Boyd
Fellowship Church
andy.boyd(at)fellowshipchurch(dot)com
972-471-5700
Casey McCann
Fellowship Church
casey.mccann(at)fellowshipchurch(dot)com
972-471-5700
NOTE TO EDITORS: For additional information visit Fellowship Church News Room, or call Fellowship Church 972-471-5700.
Fellowship Church and the Fellowship Church logo are trademarks of Fellowship Church. Other company and product names may be trademarks of their respective owners.
###