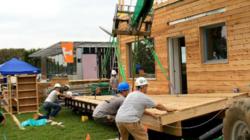 With an enthusiastic group of students and their faculty mentors, we intend to showcase how sustainable housing can be engineered to provide a new paradigm for construction and adaptability.
Hoboken, NJ (PRWEB) January 30, 2012
U.S. Department of Energy Secretary Steven Chu announced Stevens Institute of Technology has been selected to compete in the U.S. Department of Energy's Solar Decathlon 2013.
The Stevens team, titled "The Learning House," will compete against 19 schools in the international competition to build a solar-powered, energy-efficient home that combines affordability, consumer appeal and design excellence.
"The Learning House Team at Stevens Institute of Technology is thrilled to be selected for the 2013 Solar Decathlon. With an enthusiastic group of students and their faculty mentors, we intend to showcase how sustainable housing can be engineered to provide a new paradigm for construction and adaptability," said Dr. Keith Sheppard, Associate Dean of the Schaefer School of Engineering and Sciences.
The teams now begin a two-year process to design, construct and test their homes before reassembling them at the Solar Decathlon 2013 competition site. In a departure from prior competitions held on the Mall in Washington D.C., the 2013 event will be held in Irvine, California.
"The Learning House will display sustainability in all facets of its conception, from form through construction and in the dynamics of use. The design embraces the idea of the home as an engineered system of systems with embedded intelligence at the core," said John Nastasi, Industry professor and director of the Product-Architecture Program. "The house represents a view of the future in which homes are no longer built by traditional methods or to a template driven by the limitations of those methods."
As part of Solar Decathlon, teams compete in 10 different categories – ranging from best architecture and engineering to energy production for heating and cooling – while gaining invaluable real-world experience in a growing global industry.
This is the second time Stevens students will compete in the competition. In 2011, the "Empowerhouse" team tied for first-place in two key categories: affordability and hot water. Overall, the team placed in the top 10 in seven contests, finishing 13th out of 19 teams.
"We were delighted with the results of the 2011 Solar Decathlon competition and look forward to seeing the excellent work our students will do in 2013," said Nariman Farvardin, Stevens President. "We have an amazing team assembled and this highly-competitive project provides an extraordinary opportunity for students to witness first-hand the power of science, innovation and technology to improve lives."
About Stevens Institute of Technology
Founded in 1870, Stevens Institute of Technology, The Innovation University™, lives at the intersection of industry, academics and research. The University's students, faculty and partners leverage their collective real-world experience and culture of innovation, research and entrepreneurship to confront global challenges in engineering, science, systems and technology management.
Based in Hoboken, N.J. and with a location in Washington, D.C., Stevens offers baccalaureate, master's, certificates and doctoral degrees in engineering, the sciences and management, in addition to baccalaureate degrees in business and liberal arts. Stevens has been recognized by both the US Department of Defense and the Department of Homeland Security as a National Center of Excellence in the areas of systems engineering and port security research. The University has a total enrollment of more than 2,350 undergraduate and 3,600 graduate students with almost 450 faculty. Stevens' graduate programs have attracted international participation from China, India, Southeast Asia, Europe and Latin America as well as strategic partnerships with industry leaders, governments and other universities around the world. Additional information may be obtained at http://www.stevens.edu and http://www.stevens.edu/news.
###