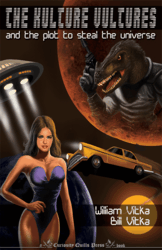 It's going to be a blast. An over-the-top tribute to pulp and wonderful, filthy human monkeys.
New York City, NY (PRWEB) January 30, 2012
Fans of Douglas Adams - and weekly serialized novellas - will be tuning in on February 21, 2012, as New York City-based author and journalist, William Vitka, and award-winning radio personality Bill Vitka, launch their "Kulture Vultures And The Plot To Steal The Universe", a quirky science fiction adventure celebrating everything that is weird and wonderful about humanity.
In "Kulture Vultures", an intergalactic cab driver named Zel must join some unlikely allies of questionable loyalties on a quest to resurrect Earth's greatest pulp writers and scientists. It's their one-in-a-million shot at stopping the Combine, a soulless media empire set on destroying everybody's favorite source for pirated Earthling entertainment. After all, there's simply no other culture like human monkey culture - the biggest threat to the Combine's terrible sitcom lineup, defeating which will take the sort of creative craziness that hasn't been seen in centuries.
The novella's slogan tells it like it is: "Only five people can save the world. But there's a problem. They're dead."
William Vitka had this to say about the launch:
"I'm grateful for the opportunity Curiosity Quills has given me. And I'm thrilled to be able to unleash something as ridiculous as Kulture Vultures. It's going to be a blast. An over-the-top tribute to pulp and wonderful, filthy human monkeys."
And he's not the only one that's excited:
"Kulture Vultures satisfies my love of adventure and tickles my funnybone, all while answering my frustrations with mass entertainment," confesses Curiosity Quills Press Marketing Director, Lisa Gus. "It makes me appreciate my fellow human monkeys all the more. Not a lot of books can do that."
"Kulture Vultures And The Plot To Steal The Universe" will begin serializing every Tuesday, starting from February 21, at the Curiosity Quills Press website. A stand-alone novella will be announced once serialization is complete.
About William Vitka
William Vitka is an New York City-based author and journalist.
He's written for CBSNews.com, NYPost.com, GameSpy.com, Stuff Magazine, On Spec Magazine, Necrotic Tissue, The Red Penny Papers and the upcoming Kindle All-Stars with Harlan Ellison and Alan Dean Foster.
He also works for the charity Blue Redefined, which aims to create social and entertainment opportunities for individuals who are disabled, hospitalized, or in an assisted living environment.
About Bill Vitka
Bill Vitka is a Peabody-award winning veteran of broadcast journalism. He has worked in Philadelphia, San Francisco, and New York. Since l980, he has worked at Network Radio, coast-to-coast. He is an ardent pulp head, a lover of all things with space ships, time machines and aliens. He is also a staff writer for the music magazine, Blues Revue. "If you can't fly between the stars," he says, "John Lee Hooker is the next best thing."
About Curiosity Quills Press
Curiosity Quills Press (http://curiosityquills.com), launched its independent publishing imprint in June, 2011 by writers, for writers, out of a common frustration with the state of publishing today. Instead of relying on readers to sift through the so-called "Amazon slush-pile", CQ presents a uniformly top-notch level of quality, tastefully curated, hard-hitting storylines, and memorable characters readers won't forget amidst their Kindle downloading sprees.
We know it's hard to stand out from the crowd when it's millions large, but Curiosity Quills Press helps level the playing field through its members' innovative social media approach, a transparent culture, and a deeply passionate team.
###