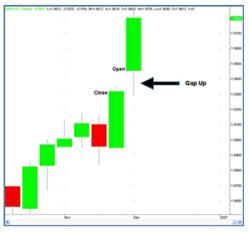 Betting against the gap, the testing over 9 years shows it will be right 9 times out of 10.
Austin, TX. (PRWEB) January 30, 2012
Forex Impact has been researching, and testing a gap trading strategy for the past 9 years, that has been proven to be 89.1% accurate. This means, 9 out of every 10 trades are profitable. This method of Forex trading is known as "Gap Trading", and for decades traders have been using "Gaps" to accurately predict short-term movements in virtually every market from stocks to currencies.
Forex Impact reveals that a "Gap" is nothing more than a change in price levels between the close and open of two consecutive bars on a chart. Though they are rare, Forex Impact explains, gaps in the Forex market do occur. In fact, between the four currency pairs that Forex Impact tested using the "Gap System", 50 - 60 trades a year were possible, so that comes out to approximately one per week.
Forex Impact says, that may not sound like a lot, but when the trades are profitable 9 times out of 10 times, a lot of trades are not required to make a lot of money. When one of these gaps occurs, it's a highly-accurate signal that the currency pair is about to reverse direction. In other words, if the price "gaps up" as Forex Impact calls it, sell short. If it "gaps down" Forex Impact says, to go long. Forex Impact remarks that this Forex trading strategy may sound counter-intuitive, but by betting against the gap, the testing over 9 years shows it will be right 9 times out of 10.
Obviously trading "gaps" isn't the only way to make money in the Forex market, Forex Impact says, because we have discovered two additional trading methods that have the potential to be even more profitable than "Gap Trading". Forex Impact has combined these 3 Forex trading strategies to make up their "Forex Profit Formula", which makes a winning trading system. Forex Impact has found through extensive research and testing that trading currencies is much more profitable than trading stocks. Emotion is the killer every time when trading stocks, or currencies, Forex Impact explains. That is why the "Forex Profit Formula" is so powerful, just follow the rules every trade and leave the emotion out of it. This relieves all the stress from trading, the rules and the system make all the decisions, explains Forex Impact.
Forex Impact says, now is the time to trade the Forex market, because it is easier than ever, since the advent of the Internet. Today, virtually all currency trading systems could be ran from a common laptop, and because there are now thousands of currency traders versus a handful before, the cost of trading systems has come down sharply, costing anywhere from a few hundred dollars to a few thousand dollars for the same technology multi billion dollar traders have been using.
###