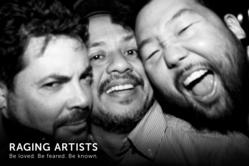 We immersed ourselves in standup as a writing exercise, and fell in love with the medium.
Los Angeles, CA (PRWEB) January 30, 2012
The RA comedy troupe is up to something fishy. Well, something sushi, actually. On February 7, content creation and marketing agency Raging Artists presents "RA Dog Comedy," a live show to be taped as part of a new Web series called "Beyond the Brick Wall." Comics and company principals Juicy Diaz, Ernie Noh, and Hursh Rephun (http://youtu.be/YPs5L0TEMoY) will appear in the lineup, which also includes Andie Bolt, Mike Citera, Andy Dugan, and Rich Aronovich. The event will take place at new Melrose hot spot, Saba Sushi - offering a rare, hot combo of comedy, sake, and kosher sushi.
"We immersed ourselves in standup as a writing exercise, and fell in love with the medium," said Juicy, who has poured audiences a "hot cup of truth" about race, religion, and family in multiple shows at The Ice House, Flappers, and HaHa Cafe, among other venues. "We also realized that as we have a unique perspective on standup, the creative process, and the comedy business, we wanted to share that via a Web series." "A rebellious Web series," added Ernie, who's appeared in West Coast comedy spots from LA to San Diego and Oakland; he shares anecdotes and insights as a member of the Korean community -- and is candid about his Asian member.
The February 7 show marks the 6-month anniversary of the Raging Artists standup journey. "Part of this experience has been meeting young comics with unique voices," said Hursh, who has brought his own way with voices and characters to shows on both coasts, at The Comedy Store, Stand-Up NY, Comedy Cellar, and more. "We've known these people for many months now and watched them grow. At this point, all are taller than I am."
In the case of Praveen Angyan - known as "Genie" (genius) - who is also doing standup, the RA team has done more than watch and support: "Genie was not a comic two weeks ago, he was an Internet guru," Juicy explained. "As Phase 2 of our writing adventure, we took someone who would never otherwise talk to people, let alone be on stage, and collectively crafted and work-shopped his set - as we do all of our own." Genie killed in an audition at Flappers Comedy Club Burbank and has made the first round of the Uncle Clyde's Comedy Contest. "Superhuman Courage + Flawless Material = Hit Comedy. Easy peezy, right?" Juicy mused. Genie will make a guest appearance at the Saba Sushi show.
As a series, "Beyond the Brick Wall" will feature shows produced in venues outside the comedy club circuit. Last week, the team attended the Sundance Film Festival, where Hursh performed before a crowd on Park City's Main Street. "Somehow, I felt there was more at stake in front of those 35 people than onstage," he said. "We were giving comedy to those people, and they didn't even have it coming."
Featured recently in ComedyBeat, Raging Artists is holding true to its mantra, "Courage. Commitment. Comedy." The firm's objective when they initiated the standup project was twofold: to challenge themselves as writers and to bridge the gap between advertising and comedy. "Products for men are something we can market that we couldn't market before, because we didn't have the reputation for tapping into the male psyche as we now have with standup," Juicy stated in the article. "We also talk about our wives and women in general, and we've been able to incorporate that with some of our clients like one that sells women's shoes." "We've been bold just by engaging in comedy," concluded Ernie, "and it's our hope that brands will be inspired to match - and top - that bravery in the content they ask us to create."
About Saba Sushi
Whoever came up with the phrase "bursting with fruit flavor" never tasted kosher sushi. That's right, kosher sushi. As in yummy, seaweed wrapped fish, rice and vegetables, now approved by the Almighty. It's sushi with a higher calling. Luckily for foodies everywhere, the higher calling doesn't translate into higher cost. The brainchild of Carmela and Asher Fadlon, the retail giants behind top indie sneaker boutique Sportie LA, Saba Sushi was borne out of Carmela's love of family and cooking. "I love to cook, and I wanted to create something for my children. It's an extension of my passion," says Carmela. And anyone who has tasted her exquisite Israeli cuisine can attest to the passion behind the talent.
Saba Sushi is located at 7160 Melrose Avenue, Los Angeles, CA 90046. The Raging Artists "RA Dog Comedy Show" takes place Tuesday, February 7, 2012, at 9pm PST.
Contact info(at)RagingArtists(dot)com for more info.
###