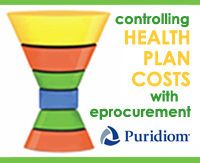 Unless some types of controls are put into place, many health plans may pay a high price.
Mechanicsburg, PA (PRWEB) January 30, 2012
Puridiom, leading provider of eProcurement solutions, is tackling the challenges faced by Health Plans today, including challenges from Health Care Reform MLR and rate justification requirements. Puridiom offers HP Enterprise for Health Plans, a tailored Procure-to-Pay software and best practice strategy to help Health Plans efficiently and cost-effectively handle the additional levels of tracking, categorization and reporting of spend required under these new Healthcare regulations.
Under new regulations, health plans are required to closely track and control their medical, quality and member education spending within an 80-85% window. Only 15-20% of revenue is available to pay for non-MLR administrative expenses and/or profit. "Many health plans are simply not equipped to handle this level of detailed cost tracking and cost control," says Jesus Ramos, Puridiom President and CEO. "Unless some types of controls are put into place, many health plans may pay a high price."
Puridiom Enterprise Procure-to-Pay is an integrated end-to-end solution that supports every stage of the procurement cycle. A true P2P and Procurement 3.0 solution, Puridiom provides an easy-to-use interface, intelligent workflow routing, social media, and flexible content management technologies to enable rapid user and supplier adoption for real spend management and cost savings. This solution is offered in two platforms – Puridiom Cloud and Puridiom Licensed enabling Health Plans of any size to utilize the solution.
The implementation of a Procure-to-Pay solution will enable a Health Plan to encompass all administrative spending, including specialized categories such as marketing and temporary labor, and enable a single enterprise-level requisition, purchase and payment workflow. The P2P solution will also enable integration of the purchasing department with accounts payable and accounting, ensuring data accuracy, precise cost assignment and accurate GL postings. Control and visibility of the entire life-cycle of a transaction would provide full insight into cash-flow and financial commitments. More information about eProcurement and the benefits to Health Plans is available in a new white paper from Puridiom, "Controlling Health Plan Costs with eProcurement."
Puridiom also provides Enterprise Cost Control consulting services to help those organizations that may need some help in assessing and meeting procurement needs.
About Puridiom
Puridiom is the most comprehensive Procure-to-Pay solution provider to offer Cloud and Licensed platforms for organizations of all sizes and industries. For over 28 years, Puridiom has streamlined function in the supply chain with innovative technologies, providing dynamic personalized services and extensive domain experience. The easy-to-use software and team strategies enable organizations to gain a competitive position and transform business into a strategic resource savings solution. Solutions include: Enterprise Procure-to-Pay, Puridom Xpress, Strategic Sourcing, Catalog Content Management, Supplier Enablement, Invoice Automation, AP Outsourcing, and Travel Management. Enterprise Cost Control consulting services are also provided.
# # #