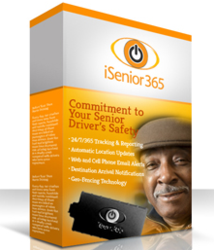 Having an active social life is a healthy way for seniors to spend their retirement and driving plays an important part.
Chicago, IL (PRWEB) January 31, 2012
Older adults are generally capable, conscientious drivers, but some will experience changes associated with normal aging that can undermine their ability to drive safely. Many families want to support their senior driver's continued independence and mobility but, at the same time, worry about their driving abilities. iSenior365, developed by iTrack365, is the most technologically advanced GPS-based vehicle monitoring system designed to keep healthy seniors on the road while giving families peace of mind.
Having an active social life and keeping busy is a healthy and enriching way for seniors to spend their retirement, and driving plays an important part in maintaining that lifestyle. Families who want their loved one to stay active are turning to iSenior365 so they can monitor their driving behavior and know where their senior's vehicle is located 24/7.
"Statistics show that by the age of 65, drivers face an increased risk of being involved in a vehicle crash," said Dana Shaut, President, iTrack365. "These statistics worry families and caregivers and our goal with iSenior365 is to give families peace of mind while allowing seniors the driving independence they deserve without sacrificing road safety. iSenior365 is an important tool in helping to keep our roads safe, for everyone."
iSenior365 is professionally installed by one of iTrack365's authorized installers under the car's dash. Once installed, this compact device allows families to track their senior's vehicle information online. The features of iSenior365's online tracking system include: showing the vehicle in real time on Google Maps; reporting speed and vehicle direction; displaying the "Bread Crumb" trail of where a vehicle has been (up to 4 months); sending email notifications for unapproved movement of the vehicle and when the vehicle has entered a specific location, exited a specific location; speeding infringement reports; and much more.
"Our advice to families is to approach the driving topic in a sensitive and supportive way and to introduce the idea that iSenior365 is there to offer everyone support," said Shaut. "We encourage families to go over the driving reports on a monthly basis together so that everyone feels comfortable on the driving decision. For some seniors, if they see that they've continued to make driving mistakes without being aware of it, they are more likely to make the decision on their own to discontinue driving. Ultimately, making the roads safer and at the end of the day, that is our goal."
iSenior365 can be purchased at http://www.itrack365.com for free with a 2-year service agreement ($34.95) and a one-time activation fee ($50). After purchase, iTrack365 will coordinate for convenient installation of iSenior365 via a local authorized installation technician. Mobile installation available in select areas.
About iTrack365, Inc.:
iTrack365 has partnered with one of the world's leading providers of telematics to offer a complete range of web-based GPS vehicle tracking and GPS fleet management solutions. Currently available in over 30 countries worldwide, the iTrack365 suite includes: iTeen365, iSenior365, iSpouse365, iFleet365, and iLease365. With advanced technologies, its own full end-to-end solution capabilities from the design of the hardware and software, to the web based hosting solution, iTrack365 has made this a convenient, user-friendly application for both individuals and companies of any size. For more information: http://www.itrack365.com or call: 866-900-2464
###