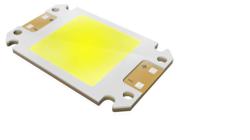 Hong Kong (PRWEB) January 31, 2012
Lumichip™ announces today the latest addition to their Solaris™ family of Chip-On-Board (COB) components. The LC4629 series provides 20W power consumption delivering outstanding light output between 1800 and 2600lm from the 46x29x 1.8mm copper core package. With very low thermal resistance, the LC4629 Solaris™ COB enables designers versatility in their luminaire design and construction due to the component's excellent thermal management characteristics.
Due to its large viewing angle and a diffuse source emitter, the LC4629 is ideal for high power industrial lighting applications as well as consumer down lights and bulbs. With its high light output performance, professional designers can integrate the LC4629 into their builds for range of demanding industrial applications as there is no compromise in CRI performance.
With its focus on special spectrum and industrial LEDs and specialist COB components, Lumichip™ continues to work closely with its partners in ensuring the most energy efficient lighting solutions, with the most advanced custom components available for specialist designers.
Lumichip™ is a privately held technology company supplying advanced LED packaging solutions and light engines into the lighting industry. The company's design, development and manufacturing operations in Asia and Europe provide customization and service support to its worldwide client base. For inquiries and further information please contact sales(at)lumichip(dot)com.
###