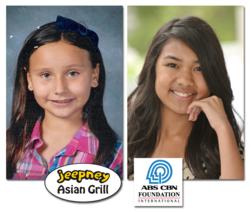 "We have always believed that philanthropy is something that everyone can do."
Redwood City, Calif. (PRWEB) January 30, 2012
Filipino communities all over the world abound with talented children. But what sets the JAG Pinoy Idol & JAG Pinoy Kidz Idol competitions apart is its pro-social and philanthropic component, as it supported the international fundraising efforts for Bantay Bata and the ABS CBN Foundation International. Dozens of children competed for the coveted titles at Jeepney Asian Grill in Cerritos, California, bringing out the little pop stars, crooners and family bands. On its maiden year, its winners were Katriz Trinidad and Christine Umali.
The 12 and over and kids competitions drew in Filipino American celebrities such as international producer/composer Morris Albert, comedian Bernardo Bernardo, actress Louie Reyes, TV personality Giselle Toengi, beauty queen Yogi Dominguez Zaragoza, Dante Basco, and Antoinette Taus. The events were presented by Jeepney Asian Grill and Becca Products, distributor of turones de mani and casoy. Produced by PAE Live! of producer extraordinaire, Ted Benito, the events drew in dozens of young artists from all over Southern California every week for the duration of the competition.
"We're honored to be in partnership with ABS CBN Foundation International and Bantay Bata in the Pinoy Idol/Kidz contests," said Danny Moran, President of Innova Foods and the Henry V Moran Foundation, a nonprofit organization that helps in the character and spiritual formation of children in the Philippines. "It's wonderful to see how kids can turn into mature and responsible men and women who have come to find Christ in the games that they play, and are willing to share their experience with others."
Moran is also the patron behind the "Football for Good" program for Bantay Bata. This program trains, develops and engages poor and street kids in the Philippines in the sport of football (soccer, in the US), and teaches them values of life like teamwork, hard work, perseverance, sportsmanship, respect for the rules, and authority. In the process of their engagement in the sport, they learn skills and are given the opportunity to compete internationally at the Homeless World Cup.
JAG Pinoy Idol Katriz Trinidad is a 7th grader at Rancho Del Rey Middle School, from Chula Vista, CA who has been singing since she was 5. A veteran in the singing competition circuit, her latest achievements include recognitions as Artist of the Year at the Rising Star Music Awards in LA and at the 7th Las Vegas Music Awards. Having opened for celebrity acts like Sarah Geronimo and Piolo Pascual, Katriz believes that kids should "Reach for the moon because if you fall short you will land on a star."
The recently concluded 12 and under competition, JAG Pinoy Kidz Idol, was bested by 8-year old Christine Umali from San Diego County. A young member of the children's choir of the Mater Dei Catholic Church, her musical interests span from dancing to singing and playing the piano. "It's a dream come true, and answer to my prayers," said Umali. "I'm really very happy and consider this as an early Christmas present."
"We have always believed that philanthropy is something that everyone can do," said J. Robbie Fabian, President of the ABS CBN Foundation International. "When you add a giving component to community events, it adds an incentive to participants and reminds us that giving can be fun, no matter how old you are."
ABOUT ABS CBN FOUNDATION INTERNATIONAL:
ABS CBN Foundation International is a 501(c)3 non-profit organization dedicated to improving the lives of disadvantaged Filipino children and their families in the Philippines and around the world. Its flagship program, Bantay Bata (Child Watch), is a child abuse rescue operation that responds to an average of 15,300 calls for assistance a year. The program assists more than 21,000 children and families in relocation communities and feeds at least 4,400 severely malnourished children a year. Its education program serves 4.2 million elementary school children and their teachers.
In the United States, the organization partners with Filipino-American organizations and associations in addressing community issues--youth truancy, housing, issues affecting the elderly, health, and emergency needs. For more programs and information, visit http://www.abscbnfoundation.org.
ABOUT JEEPNEY ASIAN GRILL (JAG):
Jeepney Asian Grill – Cerritos is a family restaurant, offering excellent Filipino and Asian food. Open daily for breakfast, lunch, dinner and parties. Experience dining with live band music - NO COVER CHARGE. For your holiday parties, contact Ramon Saporsantos, Operations Manager, 562.207.0070. 11900 South St., Cerritos, CA. WE CATER! Call us. Let us cater your Holiday Parties!
###