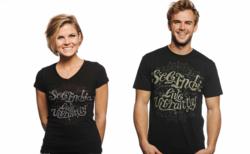 Los Angeles, CA (PRWEB) January 31, 2012
In just seven days, from January 30 through February 5, social good company Sevenly hopes to raise $5,600 for Opportunity International, which will be used by the organization to provide medical care for 400 families in need in India for an entire year.
Each custom designed t-shirt Sevenly sells is only available for seven days, with seven dollars from the sale of each shirt going to that week's charity. Fans and supporters of the company log on at 10:00am PST on Monday mornings to check out the new shirt and make their purchase. As the week goes on, the Sevenly website shows how close the giving community is to reaching a donation goal.
"This week's shirt is going to be awesome," said CEO Dale Partridge. "We did a campaign a few months ago for Opportunity International and I hope that we can raise even more money for the organization this week. I need all of our Sevenly co-givers to log on first thing Monday morning and help us reach our first goal for this charity because they are doing great things in the developing world to help people get out of poverty."
In addition to the financial goals the site also displays social awareness goals, which encourage Sevenly co-givers to share the week's t-shirt campaign on Facebook and Twitter. Since launching in June 2011 the company's Facebook page already has over 30,000 likes and each campaign is shared an average of 3,000 times via Twitter and Facebook outlets.
Sevenly has already donated over $220,000 to various charities and Partridge has set a goal of donating over $1 million to the world's greatest causes in 2012, which Sevenly has broken down into seven categories. Opportunity International is in the aid category; other causes categories include slavery, water, hunger, poverty, medical and disaster. The company, which averages over $23,000 (and rising) in sales each week, expects to reach $1.4 million in sales in its first year of operation.
About Sevenly
Sevenly is a co-profit company founded in June 2011 to raise capital and awareness for the world's greatest causes. Each week Sevenly partners with one qualified nonprofit to sell a shirt specifically designed for that week's campaign, with seven dollars from each shirt sale going to the charity. Run by CEO Dale Partridge, the company's goal is to provide support to charities through increased awareness, funding and following. To learn more about Sevenly visit http://www.Sevenly.org.
About Opportunity International
Opportunity International provides small business loans, savings, insurance and training to over two million people working their way out of poverty in the developing world. Clients in over 20 countries use these financial services to start or expand a business, provide for their families, create jobs for the neighbors and build a safety net for the future. For more information, visit http://www.opportunity.org.
###