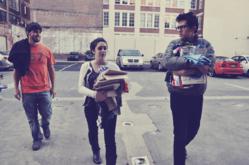 It starts with the movers and shakers on college campuses.
Philadelphia, PA (PRWEB) January 31, 2012
United By Blue (UBB) is launching a unique on-campus opportunity for Philadelphia-area college students for the Spring 2012 semester. The program, called Campus Crew, empowers students to become environmental leaders on their campuses, to participate in design competitions, and to learn the elements of running a small business through in-office externships.
"Whenever I can, I look for opportunities to share what I've learned as an entrepreneur. Campus Crew is an opportunity to teach students these lessons and gives students a well-rounded education in creating and managing a sustainable business," said United By Blue's Founder, Brian Linton.
The Campus Crew program is founded on three pillars. The first is the environment, and Campus Crew Leaders will work with UBB to establish environmental goals and objectives for their campuses, such as a ban on bottled water for purchases made with student meal plans. Once goals have been set, Campus Crew Leaders work in collaboration with UBB to achieve those goals.
"Raising awareness about issues affecting our oceans is just the tip of the iceberg; the only way to reverse our impact on our planet is by changing consumer habits and business practices. That starts with the movers and shakers on college campuses," said Cleanups Associate and Campus Crew Manager, Leslie Weinberg.
Because UBB is a fashion brand first and a conservation organization second, Campus Crew program participants will also have the opportunity to enter design contests and to learn from the company leadership.
"At UBB, we're about looking good while doing good, and we want students to be able to do the same thing," says Linton. "That's why this program is different from all the other environmental clubs on campuses."
Campus Crew also teaches students how to build a sustainable business that goes beyond just recycling and how to create a socially-conscious business and fashion brand.
"While internship opportunities for college students are plentiful, few employers offer externships, or short term projects that enable students to get a taste for what it's like to work in an industry or field. Student in the Campus Crew program will be able to come into our office to work on short projects that will help inform their career decisions," says Alli Blum, Director of Marketing and Head of the Internship Program.
UBB's Campus Crew offers unique professional development opportunities, connects students with mentors and area professionals, and teaches members many skills like recruitment, communication, event planning, and time management.
This semester the campus crew program is only available to universities in the greater Philadelphia region, and the program will be offered nationwide beginning Fall 2012. Students interested in learning more about the program can email campuscrew@unitedbyblue.com or visit http://www.unitedbyblue.com/campus-crew.
United By Blue is an ocean-friendly brand of apparel that, for every product sold, removes 1 pound of trash from oceans and waterways around the world through company organized cleanups. UBB sells a line of men's and women's organic cotton slub t-shirts, canvas bags, sterling silver jewelry, and artisan jewelry handmade by American artisans. UBB has removed over 80,000 pounds of trash from oceans and waterways in 15 states at 60 cleanups with the help of 1,000 volunteers as of December 2011.
###