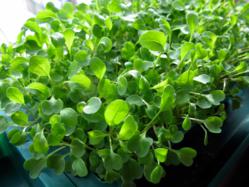 Spring is just around the corner. Now is the time for garden planning.
Lebanon, Pa (PRWEB) January 31, 2012
Winter's darkest days are behind us and we're now on that grand journey back to warm, sunny weather. Now is the time to plan for an easier and more rewarding gardening season. You'll find these ideas and more in the "Garden & Landscape Tips" section of http://www.preen.com

Scout your yard for shrubs than may have been damaged by snow, ice or wind. Prune broken branches cleanly, back to the next healthy joint or bud.
Growing flowers from seed? Remember that some plants need a big head start. Petunias, impatiens, verbena and snapdragons, should be planted indoors under lights, 10-12 weeks before the last spring frost.
Check houseplants for spider mites, aphids and scale. Give troubled plants a healthy boost with a cool shower, some fresh potting soil and a dose of liquid fertilizer.
Packets of flower or vegetable seeds make a nice gift for Valentine's Day. Just slip them in with your card and a potted primrose or bouquet of tulips.
Mustard, ragweed, henbit and many other pesky weeds start growing with the first hint of spring. Keep them from sprouting by applying a weed preventer two weeks before the ground begins to warm up. Learn more at http://www.preen.com.
Consider adding raspberries, blueberries, currants or other small fruits to your landscape. For the best selection, order dormant plants by mail. All should be planted in earliest spring as soon as the soil can be worked.
Grow your own micro-greens. Plant leftover broccoli, radish or basil seeds in a pot and grow on a sunny windowsill. Snip young plants with scissors for a pretty garnish or a spicy addition to a salad.
Take cuttings of geraniums, coleus, rosemary and other tender plants that you have overwintered indoors. Root them in water or in moist potting mix.
Most perennials benefit from being divided every few years. The best time to do this is earliest spring just as new growth appears. Think about the plants that are most in need of dividing and make a list of them so this task doesn't get forgotten in the rush of spring.
For more information on gardening and landscaping visit http://www.preen.com. Preen is the leading brand of garden weed preventers. Preen products don't kill weeds; they are weed preventers. They stop new garden weeds from happening.
###