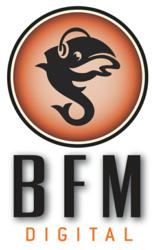 Los Angeles, CA (PRWEB) January 31, 2012
BFM Digital, a top global music company specializing in digital distribution, marketing, and promotions, announces new content acquisition deals with 615 Music/Non-Stop Music (Warner-Chappell Music), Hindusthan Musical Products Ltd. / The Indian Record Mfg. Co, Zebra Records and Water Lilly Acoustics. These strategic partnerships will allow each company to utilize BFM's worldwide network of digital stores and their customizable marketing plans to increase revenue and maximize exposure.
"The start of the year has marked several new partnerships that we're thrilled to announce. We're honored to have such notable companies sign on with us despite the many options for digital distribution and marketing services. Their decision to do so reinforces our commitment to personal service and its importance in the industry today," says Steven Weber, President of BFM Digital.
615 Music/Non-Stop Music are two of the highly successful production music companies acquired by Warner/Chappell Music, the global music publishing arm of Warner Music Group Corp. Other music libraries also acquired have been Groove Addicts and V. Soon to be consolidated as Warner Chappell Production Music, these various catalogs total approximately 74,000 tracks of music. Countless A-list broadcasters, filmmakers, producers, directors, sound designers, and editors around the world earning numerous awards have used tracks from these catalogues. (http://www.615music.com and http://www.cuegle.com)
Hindusthan Musical Products Ltd / The Indian Record Mfg. Co. is one of the largest Indian music libraries in the world. Founded in Germany in the 1930's, Hindusthan began its vast catalogue of music with multiple recordings by Rabindranath Tagor, a collection that today reigns among the company's best sellers. Since then, Hindusthan has gone on to include hit releases by K.L. Saigal, Pankaj Kumar Malllick, S.D. Burman, Debabrata Biswas and Datta.
The Indian Record Mfg Co., a successor in interest to Hindusthan, was the first 100% Indian owned record manufacturing unit in India. Since it's inception in 1977, the company has gone on to specialize in Carnatic music and classical recordings, partnering with notable artists Sudha Ragunathan, Sowmya and Ustad Rashid Khan. Most recently the company has released a series of immensely popular Bhajans sung at the Ramakrishna Mutt. (http://www.inrhind.in)
ZEBRA Records is known for its quality music and world-class artistry. The eclectic, contemporary jazz-oriented label has also released jam band, fusion, acoustic and rock titles. Founder Ricky Schultz has always been drawn to great musicians and every ZEBRA title bears this out, leaders and sidemen are always among the very best players. Every step of the production and packaging is done to help the artist deliver their best to the fans, so you get CDs with great taste, less filler!
Water Lily Acoustics is an American record label based in Santa Barbara, California. It primarily releases recordings of Indian classical music and cross-cultural collaborations between musicians from around the world. Capturing the unique blend of these two cultures, the catalog includes incredible performances by such renowned players such as Dr. L. Subramaniam, Dr. Ustad Ali Akbar Khan, Ry Cooder, Béla Fleck, Taj Mahal, David Hidalgo and Larry Coryell. The 1993 album A Meeting by the River (featuring Ry Cooder and Vishwa Mohan Bhatt) won a Grammy Award. (http://waterlilyacoustics.com/main.htm)
For more information, please visit http://www.bfmdigital.com
About BFM Digital, Inc.
BFM Digital is a global digital music company committed to serving the independent music community and delivering quality music, spoken word and video content to leading online retailers worldwide. Representing a diverse catalog of indie labels, artists and publishers, BFM distributes to all of the major music services including iTunes, Amazon, Rhapsody, eMusic, Napster, Walmart, Nokia and many more. With an unparalleled commitment to personalized service, BFM works closely with their content providers from around the world to ensure maximum exposure of their catalog by customizing marketing efforts and building strong relationships with BFM's digital store partners.
###