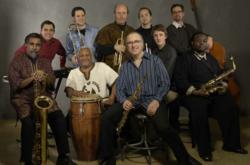 Amazing...lush, majestic power...effortlessly and imaginatively bridging the gap between Cuba and Ethiopia...the shifting textures and voicings of these new compositions are equal to anything Gil Evans ever came up with."
Lucid Culture.com
Somerville, MA (PRWEB) January 31, 2012
The ten-piece Either/Orchestra performs twice in February with the New England premieres of The Collected Unconscious, a new suite composed by band founder Russ Gershon and based on the pentatonic modes of and triple rhythms of Ethiopian music. The language of the suite goes far beyond those parameters, recalling Ellington, Mingus, Tito Puente, Sun Ra and others in its broad scope. Audiences will find it moving and nostalgic as well as hot, exotic and exciting.
February 3 finds the group at Fête in Providence RI. Doors open at 7, music at 8. Tickets are $10 in advance, $12 at the door. Fête website
February 24 the E/O brings the music back to its home base of Boston, with an appearance at the Institute of Contemporary Arts, in the New Music Now series. Music begins at 7:30. Tickets are $18, $16 for ICA members. ICA website
Greg Haymes reviewed The Collected Unconscious in the Albany Times-Union: "Slinky and sensual one moment, nostalgic and bluesy the next, Gershon led the band through the complex and constantly shifting time signatures while remaining undeniably swinging throughout." He added, "[the E/O] wrapped up the concert with Gershon's tasty slab of New Orleans street funk, 'Somethin' for NOLA,' proving without a doubt that a band of eclectic, esoteric jazzbos could get down and get funky, too."
The program will also include musical highlights from the E/O's May 2011 tour of Ethiopia. Sponsored by the US, French and Spanish governments, the E/O restored and revived music written by Nerses Nalbandian, an Armenian expatriate who shaped modern Ethiopian music from his position as music director of the Haile Selassie National Theater during the 1950s and 60s.
Founded in 1985 by Gershon, the ten-piece Either/Orchestra (E/O) is New England's premier jazz ensemble, Grammy nominees and perennial poll-winners. Their live show is a dazzling blend of Afro-Caribbean rhythms, precision big-band ensemble work and exotic Ethiopian sounds. A colorful six-piece horn section is matched by a rhythm section of piano, bass, drums and congas, including musicians from the Dominican Republic, Venezuela and Brazil. Their performances are fun and broadly appealing, sophisticated and uplifting.
Critics and audiences worldwide have savored the E/O's music through over 1000 performances, 11 CDs and a DVD. "Dependably marvelous," writes Richard Gehr in the Village Voice; "the best little big band ever," according to the editor of Down Beat, Frank Alkyer; "serious chops and courageous experimentation with a strong sense of entertainment and subtle humor" is how Jeff Tamarkin described the EO in JazzTimes earlier this year.
The E/O has played at Lincoln Center, the Glastonbury (UK) Pop Festival, the Chicago, Monterey, Toronto, North Sea, Vancouver and many other major jazz festivals, theaters in Milan, Stockholm, Helsinki, Paris, Rome, Germany, Portugal, Uganda, Russia and clubs everywhere. They are known for crossing over to non-jazz audiences with their fiery and exciting show. Hard-core jazz fans appreciate the great playing and arrangements, general audiences connect instantly with the personalities, deep grooves and memorable melodies.
The E/O has a 14 year relationship with the music of Ethiopia, and have become the jazz world's leading non-Ethiopian players of this music. May 2011 was their second visit to that country; the first, in 2004, yielded the Ethiopiques 20: Live in Addis CD, which received rave reviews: "Astonishing...monumental...the best live album of the year—in any genre" –Paul Olson, AllAboutJazz.com; "a total triumph" –Budd Kopman, AllAboutJazz.com; "Incredible" –Tim Perlich, Now Magazine, Toronto; "[A] completely remarkable recording." –Norman Weinstein, AllAboutJazz.com; "Sends the senses into the very heart and soul of communal human love...A force that dares to break barriers." –Lofton A. Emenari III, WHPK, Chicago
Composition and presentation of The Collected Unconscious has been made possible with support from Chamber Music America. In 2010, Gershon received this New York-based organization's prestigious Jazz New Works and Ensemble Development grant, tailored toward the needs of a composer working with a specific ensemble.
Over the past year, in celebration of its 25th anniversary, the E/O convened spectacular alumni reunion concerts in Boston and NYC which featured 28 musicians including such luminaries as Miguel Zenon, John Medeski, Josh Roseman and Matt Wilson.
Either/Orchestra personnel:
Tom Halter - trumpet
Dan Rosenthal - trumpet
Joel Yennior - trombone
Hailey Niswanger - alto saxophone, flute
Russ Gershon - tenor, soprano saxophone
Charlie Kohlhase - baritone saxophone
Gilson Schachnik - piano, organ
Rick McLaughlin - bass
Pablo Bencid - drums
Vicente Lebron - congas, percussion
special guest:
Josiah Reibenstein - tuba
"Warmth and good humor that makes the music immediately accessible...fabulous musicians, performing terrific music with great creative skill." –Bruce Lindsay, allaboutjazz.com
"Serious chops and courageous experimentation with a strong sense of entertainment and subtle humor...for 25 years the Either/Orchestra has given much both to audiences and [the musicians] who've passed through its ranks." –Jeff Tamarkin, JazzTimes
"Boston's ten-piece Either/Orchestra makes its own rules." –Brad Farberman, Time Out New York
"One of the few bands around equally at home at the Vision Festival, the Roseland Ballroom or CBGB." –Will Friedwald, Wall Street Journal
"...Individual virtuosity, a devotion to strong melodic lines, a wry wit, a love of excitement and surprise, a genuine fellow-feeling on the bandstand, and feedback from audience regulars that makes performances feel something like family reunions." –Steve Elman, artsfuse.org
Facebook page
Follow Russ Gershon on Twitter
###