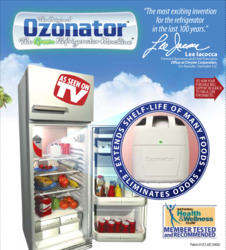 The Ozonator is a thirty dollar update to your refrigerator that will save health-focused families thousands per year on refrigerator waste. Get the Green Refrigerator Machine to keep your fruits & vegetables fresher longer, says Russ Karlen.
Las Vegas, Nevada (PRWEB) January 31, 2012
Today, Brittany Karlen Messmer and Russ Karlen, father daughter co-founders, are pleased to announce that their Ozonator™ known as the Green Refrigerator Machine™ recent winner of the "Best Kitchen Utensils, Gadgets and Chef Item" 2011-12 at the Gourmet Product Awards, has received its patent.
According to Russ Karlen, the Ozonator is the perfect 21st Century affordable appliance update for homes focused on eating healthy and saving money monthly. Russ Karlen shares proof of Ozonator cost-savings with soup recipes made from leftovers that might otherwise be thrown away without the aid of the Ozonator which keeps refrigerated foods fresher longer.
"The average household throws out 180 lbs. of produce per year due to spoilage which translates to well over a thousand dollars a year in waste," says Russ Karlen. "By purifying the air and cleansing the environment the Ozonator extends the life and flavor of foods including fruits and vegetables which decay most rapidly, and are often the most expensive to purchase organic and fresh. The Green Refrigerator machine is a thirty dollar update to your refrigerator that will save health-focused and green living families hundreds of dollars monthly."
The Green Refrigerator Machine not only extends the life of food, saving money, it also offers many other benefits like the elimination of all odors in the refrigerator, i.e.: fish, garlic, onions, etc. It operates on four "D" batteries and initially generates ozone for the first 60 minutes of operations. It automatically switches to standby mode for 4 hours or 230 minutes, activates itself for 10 minutes, and that repeats that cycle every 4 hours until the batteries need replacement (usually 5-6 months).
Russ Karlen's Winter Ozonator Soup Recipe
Use the Ozonator in your refrigerator to keep your leftovers fresher longer. Try Russ Karlen's favorite healthy Ozone Soup made from leftover ham and beans. http://www.ozonator.com
Ingredients: Ozonator leftover Ham & 16 Bean Soup mix, fresh chopped assorted vegetables.
Place 20 oz. bag of 16 Bean Soup Mix in 6 - 8 cups of cold water.
Let stand overnight or at least 6 - 8 hours.
Drain water and rinse beans.
Add 6 cups of hot water to drained and rinsed beans.
Simmer gently with lid tilted with leftover ham bone until desired tenderness of beans is reached -- about 2 hours. Remove ham and bone from the refrigerator . . . kept fresher longer with the Ozonator and chop ham into small pieces.
30 minutes before beans have finished cooking, add the following:
1 lb. of cooked ham, chopped
1 can chopped tomatoes with green chilies.
1 chopped onion
1 clove garlic, minced
Contents of flavor package included in the bag of 16 bean soup.
This makes 10 bags of soup to freeze.
Write name of soup and date on the bags. Example: 16 Bean/Ham 11/11/11
Seal bags and freeze. Easy access to homemade soup, instead of fast food, will save you money and help you live a healthier lifestyle! Please visit http://www.greenrefrigeratormachine.com for more details!
The Ozonator™ popularly known as The Green Refrigerator Machine™ promotes a clean environment inside your refrigerator. Produced in sufficient quantities, ozone is known to oxidize, and thereby destroy, many harmful germs and bacteria, molds, and yeast that can be transmitted from one family member to another by hand contact on foods, food containers and other hard surfaces inside your refrigerator. The Ozonator™ has been proven by a leading independent laboratory to produce ozone in safe quantities, reduce orders, and extend the shelf life of refrigerator stored perishable foods. The Green Refrigerator Machine recently took first place as Best of Expo at the New Living Expo in San Francisco and placed among the top five in the New Products Category at Go Green Expo in Los Angeles. Priced at $29.95, with the savings you get from food staying fresh longer, it will pay for itself within two months. For each Ozonator sold, a percentage is donated to The Iacocca Diabetes Foundation, dedicated to the advancement of diabetes research. To participate in the ShareASale affiliate program or to order and Ozonator for your refrigerator, please visit http://www.ozonator.com or call 702-363-5343.
# # #