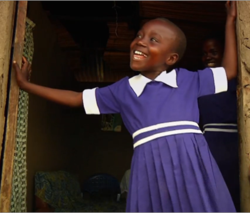 We have really made a mark in the results that we have gotten for orphans and vulnerable children
Bethesda, MD (PRWEB) January 31, 2012
A newly released film highlights the efforts of governmental and non-governmental organizations to improve the lives of the more than 2.5 million Kenyan children orphaned or made extremely vulnerable by HIV and AIDS. The organizations, funded by the United States Agency for International Development (USAID) and the President's Emergency Plan for AIDS Relief (PEPFAR) are using quality improvement methods the USAID Health Care Improvement Project (HCI) adapted for low-income settings. HCI is managed by University Research Co., LLC (URC).
"Care that Counts: Applying Quality Standards to OVC Services in Kenya" is an 18-minute film that tells the story of how quality improvement (QI) efforts applied by the staff and volunteers at two organizations, FHI-360's Speak for the Child Project and Maua Methodist Hospital's ZOW Project, made a difference in the care for orphans and vulnerable children and the communities in which they live. Orphaned and vulnerable children (OVC) are often at greater risk of becoming victims of violence, exploitation, trafficking, discrimination, and other abuses.
The organizations used QI methods to pilot standards of care and tools for program staff to identify and address the gaps in their services. For example, one organization discovered that the children it was serving could not attend school because they lacked birth certificates. The organization worked with local community leaders and family members to obtain needed birth certificates, enabling the children to return to school.
"[Due to] quality improvement, we are now able to really know what the specific needs of the children we are serving are and …[we are] able to address them," said Peterson Ndigwa, Quality Improvement Focal Point in the Kenyan Government's Department of Children's Services.
HCI worked with the department, housed in the Ministry of Gender, Children and Social Development, to select the two organizations featured in the film, along with five others, to pilot the OVC quality service standards. The standards were developed with the input from the Government of Kenya, those who provide OVC services, and the children who receive the services.
"We have really made a mark in the results that we have gotten for orphans and vulnerable children," said Dorcas Amolo, HCI's Chief of Party for Kenya.
HCI uses QI methods to improve the effectiveness, efficiency, and safety of health care delivery processes and systems and the performance of health workers providing services. In addition to OVC services, HCI is supporting health care improvement efforts for child health, maternal and newborn care, reproductive health and treatment for HIV/AIDS, TB, and malaria in 28 countries.
URC, through HCI, is providing technical assistance to support local implementers in using QI techniques to apply to the delivery of services for orphans and vulnerable children in eight countries in Africa, Latin America, and the Caribbean.
About University, Research Co., LLC: Established in 1965, URC is a global company dedicated to improving the quality of health care, social services, and health education worldwide. With its non-profit affiliate, the Center for Human Services, URC manages projects in over 40 countries, including the United States. Based in Bethesda, Maryland, URC has over 850 employees around the world. You can find us on Facebook and Twitter.
About the USAID Health Care Improvement Project: The work of HCI is supported by the American people through the United States Agency for International Development (USAID). HCI is managed by University Research Co., LLC (URC). URC's subcontractors on HCI include EnCompass LLC; Family Health International 360 (FHI-360); Health Research, Inc.; Initiatives Inc.; Institute for Healthcare Improvement (IHI); and Johns Hopkins University Center for Communication Programs (CCP).
###