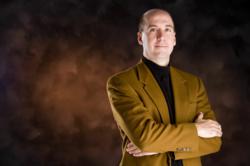 One look at these major trends suggests the retail industry is ripe for major, disruptive transformation.
New York, NY (PRWEB) January 31, 2012
Popular keynote speaker, retail futurist, change management expert and best-selling author, Jack Uldrich has been selected to deliver a keynote presentation entitled "Looking Around the Corner" at PepsiCo's Asia Region President's Leadership Academy in Chennai, India on February 6, 2012. He will be discussing a number of industry trends, including: mobile shopping and payments, social networking, digital displays, facial recognition technology, radio frequency identification (RFID) technology, smart packaging, sustainability, data mining, dynamic pricing, gaming dynamics, behavioral economics, Omni-channel distribution, and crowdsourcing. Uldrich will also cover how these trends will affect consumer behavior as well as lead to new, innovative business models and opportunities in the retail industry.
The talk, based on a combination of Uldrich's best-selling book, "Jump the Curve; 50 Essential Strategies to Help Your Company Stay Ahead of Emerging Technologies" and his latest book, "Higher Unlearning: 39 Post Requisite Lessons for Achieving a Successful Future," is designed to provide PepsiCo's senior executives a solid and thought-provoking foundation upon which to conduct future strategic planning. An overview of his talk can be found in this article: 5 Future Retail Trends That Are Here Today.
Uldrich will then discuss why these trends will require unlearning as well as review the consequences of not embracing the concept of unlearning. Uldrich, who has been hailed as "America's Chief Unlearning Officer," will conclude by providing an overview of how these technological changes will also transform consumer behavior and upend long-standing business models in the retail industry. Throughout his talk, Uldrich will use vivid analogies and memorable stories, drawn from a wide spectrum of industries, to ensure his message of unlearning "sticks" with his audience. A sample of just one of his ideas can be found in this chapter, In the Future, It's All a Game, from his forthcoming book, "Foresight 2020: A Futurist Looks Ahead to Ten Trends That Will Shape the Coming Decade."
In the past year, Uldrich has addressed dozens of retailers and retail associations, including delivering customized keynote presentations to Target, the International Franchise Association, the Food Marketing Institute, HEB Grocery, Hy-Vee and the Minnesota Retail Association. He has also addressed a number of major, non retail-related corporations on the topics of future trends and unlearning, including Cisco, IBM, WiPro, and General Electric.
Parties interested in learning more about Jack Uldrich, his books, his daily blog or his speaking availability are encouraged to visit his website at: http://www.jumpthecurve.net. Media wishing to know more about the event or interviewing Jack Uldrich can contact him directly at 612-267-1212 or jack(at)schoolofunlearning(dot)com.
Uldrich is a renowned global retail futurist, best-selling author, editor of the monthly newsletter, The Exponential Executive, and host of the award-winning website, http://www.jumpthecurve.net. He is currently represented by a number of professional speakers' bureaus, including Leading Authorities and Executive Speakers Bureau.
###