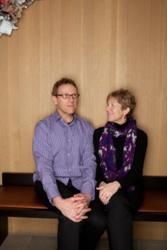 This film festival marries independent filmmaking with the true spirit of Napa Valley
San Francisco, CA (PRWEB) January 30, 2012
In this issue of Haute Living San Francisco, Marc and Brenda Lhormer prove that they really are something of innovative geniuses. Founders of the Napa Valley Film Festival, the couple found a way to unite Napa, St. Helena, Calistoga and Yountville all in the name of entertainment, offering their guests an experience like no other festival in the world.
"This film festival marries independent filmmaking with the true spirit of Napa Valley," said Marc Lhormer. "It's not all about big corporate names; 95 percent of the wineries are small and family-owned, very much like great independent films versus larger Hollywood movies."
Film screenings, dinners curated by celebrity chefs, wine tastings and award ceremonies make the festival a unique one. Perhaps it's the duo's goal for their guests, though, that sets the festival apart from the rest. At the Napa Valley Film Festival, everyone is treated like a VIP.
Brenda explained that the VIP experience ranges, giving an example of the most elite package available. "There are four levels of VIP Patron experiences," she explained. "Leslie and Keith Blodgett and Eileen and Michael Chiarello (Bottega's famed chef) were Founding Patrons at the highest level. They received our concierge service extraordinaire. We arranged tickets for all screenings, dinners and V.I.P. receptions. They received a customized itinerary, a Mercedes, a private driver and a private concierge."
"That is a $50,000 experience, but there's everything in between," she continued. "The hospitality that we offer everyone is equal in its own way. Even a $10 ticket holder feels welcomed."
With that in mind, the Lhormers carefully curate the entire festival so each guest is immersed in a world of the finest food, wine and films, all while in great company. Each element is specifically chosen to create an experience that can't be duplicated, not even by the festival itself.
"We want guests to think, 'I need to come back every year, because I'm going to get something different each time. I'm going to meet a new artist, a new chef, a new filmmaker and new friends,'" said Brenda. "We want people to walk away with the feeling that they're part of this community now, whether they live here or not."
Marc continues, "We want you to be changed by this experience, [for] your experience to be so transformative that it will change someone else. We want it to become addictive, so you want to come again. We want this on your calendar as an annual tradition."
About Haute Living Magazine
Haute Living Magazine is a national luxury lifestyle magazine published in four markets—New York, Miami, Los Angeles and San Francisco. The book features the top entrepreneurs, businesspeople and notables in each market and highlights the best in luxury consumer goods, culinary hot spots and events. HauteLiving.com recently underwent an upgrade while Haute Time (http://www.hautetime.com) and Haute 100 (http://www.haute100.com) websites were re-launched, providing readers with upscale resources on the swankest parties, timepieces and individuals.
For more information, please visit: http://www.hauteliving.com
###