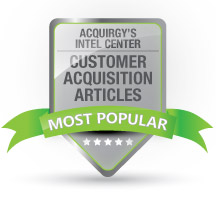 St. Petersburg, FL (PRWEB) January 31, 2012
The IntelCenter, which was launched in September of last year, now features over 80 articles, all based on proven direct response tactics across Direct Response TV, search and other digital platforms, including some two dozen case summaries. The 5 most popular articles in the last 45 days are:
ARE YOU EMBRACING "SECOND CHANCE MARKETING?" Imagine being able to contact potential customers who came to your site but didn't buy, with the means to convert them?" Learn how.
WHY RETAILERS LOVE "AS SEEN ON TV" PRODUCTS. Even though some sales are made direct-to-consumer, the major can be at retail. One of many reasons retailers love infomercials.
ARE YOU DEALING WITH THE REASONS WHY CONSUMERS SHOP ONLINE vs. IN STORES? Understand this critical dynamic and what you can do to combat it or embrace it.
MARKETERS NEED TO CHANGE THEIR DRTV MINDSET. Infomercials are not what they used to be, and that means mainstream marketers should sit up and take notice of this powerful medium.
"GLOVES OFF" DEBATE AT DIRECT MARKETING NEWS. Read our POV on Google's recent change in the way they display search results.
These articles can be found at http://R1S.acquirgy.net.
The Customer Acquisition IntelCenter enables you to get your head around acquiring customers in the digital age with valuable and important content written by experts who have produced tens of millions of customers worth billions in revenue, offline for 30+ years and online since 1996. Major areas of the IntelCenter include "Nuts & Bolts" (Green Papers, Executive Briefs), "Millions & Billions" (Cases, Testimonials), "Winner's Circle" (Creative That Sells), "Points of View" (Key Stat Analyses, In the Trenches, Blog) and "News & Milestones" (New Clients/People, Published Content).
About Acquirgy
Acquirgy (http://www.acquirgy.com) is an Acquisition Marketing Agency developing and executing accountable marketing programs driven by immediate and measurable response metrics across all digital and traditional platforms. Proprietary tracking systems integrate all transactional media, logistic and response data from all platforms to optimize client profitability.
###