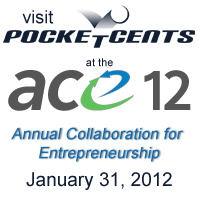 Ann Arbor, MI (PRWEB) January 31, 2012
PocketCents is pleased to be exhibiting at this years Annual Collaboration for Entrepreneurship in Ann Arbor, Michigan on January 31st, 2012. PocketCents has been a front-runner and pioneer of local technology throughout its four years of operation. By putting local first and building the technology around it, PocketCents has been able to leverage local audiences from generic user traffic. Opening the online advertising world to small business owners with flat-rate 25 cents/click pricing, PocketCents has become a formidable player in the online advertising industry.
The Annual Collaboration for Entrepreneurship is an event that was designed to promote entrepreneurship in the Great Lakes region and facilitate collaboration between local businesses. ACE brings together entrepreneurs, service providers, investors, students, government agents and other members of the business community to network, learn and connect. Hundreds of people attended ACE '11, and the event garnered national attention in the Detroit Free Press and the New York Times. PocketCents encourages anyone interested to join this local and national community in 2012. ACE began in Michigan in 2001 as a joint meeting hosted by the New Enterprise Forum and the MIT Enterprise Forum of the Great Lakes. Today, additional organizations participate in organizing, supporting and promoting the event, and the scope of ACE has grown to encompass participants from the broader Great Lakes region.
About PocketCents:
PocketCents, Inc. (http://www.pocketcents.com) is a Local Online Advertising Network specializing in promoting small and local businesses through pay-per-click targeted advertising banners on websites and mobile devices. The PocketCents network has publishers in the U.S. and around the world displaying more than 3 million ads per day. Advertising media types include traditional banner advertisements, local coupon advertising, pop-up local video ads, and now premium mobile advertising using the power of Mobile GPS.
###