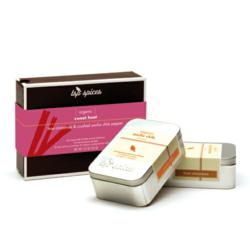 With a sense of adventure and a little imagination it's easy to find spice combinations that make ordinary food extraordinary.
Baltimore, MD (PRWEB) January 31, 2012
As alluring as chocolate, as fragrant as flowers, spices are the new go-to gift for Valentine's Day. This year, tsp spices is celebrating special loves with a red-hot special on "Sweet Heat," the company's most popular spice pairing.
Normally priced at $15.99, this stylish gift set will be available at half price through February 15.
tsp spices, an award-winning spice company based in Baltimore, packages top quality, organic spices in airtight, premeasured packets. The organic designation assures consumers that they are getting 100% pure spice, herb or zest – with no extra twigs or leaves, no pesticides, and no additives or fillers that could trigger gluten allergies.
The teaspoon packets are housed in designer tins, each with 12 one-teaspoon packets. Sweet Heat brings together one tin each of true cinnamon, and ancho chile pepper in a handsome chocolate-brown presentation box.
True cinnamon, often sold as Ceylon or Sri Lankan cinnamon, is a close cousin of the cassia cinnamon Americans know simply as "cinnamon." In contrast to cassia cinnamon, true cinnamon is slightly sweeter and has a bit less of that "red hot" bite characteristic of the best cassia cinnamon. In European kitchens, true cinnamon is more common than cassia.
Some cooks prefer true cinnamon for some purposes like baking and cassia cinnamon for other uses, but these two spices can also be used interchangeably. The cooks at tsp spices encourage consumers to experiment boldly with all spices. It's hard to go wrong with these great flavors. With a sense of adventure and a little imagination it's easy to find spice combinations that make ordinary food extraordinary.
tsp spices' Sweet Heat set is perfect for spicing up those chocolate treats that are favorites around Valentine's Day – or anytime! High on that list are Sweet Heat brownies. Another favorite is a steamy mug of hot chocolate, spiced up with a little bit of cinnamon and a dash of ancho chile.
The bold flavors of tsp spices make it easy to enjoy food with less sugar – just one way spices can make food healthier. Whether it's hot chocolate or brownies, cooks who reach for tsp spices' packets can scant the sugar and still get compliments on their food.
tsp spices offers 24 spices as well as combinations tins like Sweet Heat, Sun Shine (organic lemon zest and organic orange zest) and Savoir Fare (marjoram and sage).
There are also "basics" collections with six tins each: Green Basics for herbs, Spice Basics for savory spices and Sweet Basics for sweet spices like cardamom, cassia cinnamon and cloves. Basic sets retail for $39.99.
tsp spices offers great flavors for Valentine's Day – or any special occasion – as well as an easy solution to that annoying kitchen problem of stale spices. Sealed in airtight, flavor-saving packets, spices retain their pure, organic flavors far longer than spices in traditional bottles or jars.
To browse the complete line, and find recipes and inspiration, visit http://www.tspspices.com.
###