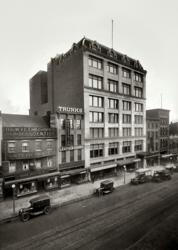 Washington, DC (PRWEB) January 31, 2012
The District Architecture Center opened its doors for the first time in November of 2011, and is now extending a warm welcome to the community to attend the inaugural exhibition in the Sigal Gallery – ODD: A Building in Penn Quarter.
The first exhibit in the new center's gallery space opened on January 26th and highlights the unique and sometimes mysterious history of the building in which it resides. Built in 1917 for the Independent Order of Odd Fellows (I.O.O.F.), the building and its inhabitants have had a significant impact on the Penn Quarter, both architecturally and socially, for almost a century. Visitors to the exhibit will receive a visual and factual tour through time to see how the building came to be, and how it has become the new home of the Washington Chapter of the American Institute of Architects. The exhibit includes historic photos and renderings as well as a scale model of the front façade built by Peter Scott of Scott's Architectural Models.
"We thought it was such a fantastic idea to highlight the historical impact of what has become our new, modern facility for our first exhibit in the Sigal Gallery, " says Mary Fitch, Executive Director of the AIA|DC. "Learning about this building is very much like taking a trip through time to understand how our neighborhood became what we see today."
ODD: A Building in Penn Quarter is a completely free exhibit, open to the public from 9am-8pm Monday-Thursday, 9am-5pm Friday, and 9am-2pm on Saturday at 421 7th St. NW, Washington, DC 20004.
About the District Architecture Center
The District Architecture Center is home to the Washington Chapter of the American Institute of Architects and the Washington Architectural Foundation, two organizations that advocate for architecture and the built environment, educate both professional architects and the public, and inspire design excellence through workshops, tours, exhibits, lectures, and special events.
###