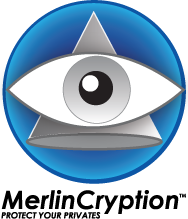 The unlimited uses of M2M technology are compelling for developers and consumers. Yet, when data is not carefully protected, M2M creates an irresistible windfall for cyber criminals.
Austin, TX (PRWEB) January 31, 2012
MerlinCryption's new M2M software platform introduces advanced encryption for machine-to-machine engineers and providers, leveraging developers with invulnerable end-to-end data protection in an exploding market of innovation and opportunity.
MerlinM2M™ is vastly more powerful encryption than current market offerings, utilizing unpredictable and changing Military Strength keys, which defeat increasing computer-power and investigative technique.
"Standard off-the-shelf algorithms have been cracked, exposing risk for wire and wireless communications. Authentication, machine control, and updates need to be encrypted. Critical data must be protected," advocates Paul "Prem" Sobel, CTO MerlinCryption LLC. "MerlinM2M utilizes the CryptoFile™ Key-in-a-File approach and a proprietary encryption algorithm, which is not based on mathematical technique and not subject to statistical analysis."
Traditionally, IT security has focused on M2M back-end risk, addressing storage, processing, analytics, backup and distribution. With the advent of smart-phones, handhelds, vehicle-based and asset-attached sensors, as well as cloud staging and hosting, the landscape has changed and the need for advanced data loss prevention is paramount.
MerlinM2M provides fail-safe software to shut out compromise at every segment of the M2M process, while circumventing the expense, time, and space consumed by additional software, hardware, and procedural steps. M2Ms benefit from accelerated time to market, reduced development costs, and improved profitability with a benchmark encryption protection platform
As machine-to-machine emerges, its primary use has been in the transmission of telemetry data, capturing remote data, updating software, transmitting pictures, or other status information. It increasingly invokes thousands of other purposes. Everyone with a smart-phone carries an M2M-capable device and developers progressively take advantage of this exciting technology. Futuristic ideas for promising applications in medical, vehicle manufacturing, smart-appliances, and utilities are already realities, not merely R&D concepts.
MerlinCryption delivers the data loss prevention solution to companies that need an encryption component, helping M2Ms solve challenges and create new opportunities. By embedding encryption technology into their solution, M2Ms secure critical data transmission and provide their customers a complete, integrated offering with flexible and compliant iron-clad security.
MerlinCryption's forward-thinking technology is built for change, and is easily integrated, adaptable and scalable. It embeds and assimilates easily into existing systems, strengthening security for M2M as it is… and as it evolves in the future.
About MerlinCryption LLC
A software technology company in Austin TX, MerlinCryption LLC develops invincible data security solutions that combine powerfully robust encryption with surprising affordability and functional ease.
Leading edge MerlinCryption technology secures data-at-rest and data-in-motion, and pioneers innovative software to protect data-in-use and data-in-change. The unprecedented encryption platform protects file, email, instant messaging, password, and broadcast data as it is created, viewed, edited, shared, stored and moved around the Internet and around the world. Experience how MerlinCryption architecture is changing the way the world protects data.
###