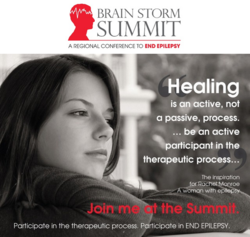 [The Summit] is especially unique because...it's relevant and accessible to all - whether you have epilepsy or know and care for someone with epilepsy.
Los Angeles, CA (PRWEB) January 31, 2012
The Epilepsy Foundation of Greater Los Angeles will host their annual Epilepsy Brain Storm Summit in downtown Los Angeles at the Cathedral Plaza Conference Center in English on Saturday, February 25, 2012 and in Spanish on Sunday, February 26, 2012. Epilepsy specialists and other experts who support the overall well-being of people with epilepsy and their loved ones unite for the purpose of empowering the epilepsy community to actively participate in wellness to END EPILEPSY.
Topics are centered on the conference's theme of "actively participating in wellness to END EPILEPSY". The conference will help ensure that attendees leave with the knowledge that they have a role in their health and well-being as well as a better understanding of the resources and tools to apply this knowledge. 
Panels of experts will present the latest advances in dietary therapies and medications currently available to individuals with epilepsy while also highlighting ground-breaking developments in surgical treatments and devices which patients can consider now or in the near future. Interactive workshops will provide attendees with the chance to delve into a greater array of topics -- ranging from mobile applications for seizure tracking, sexuality and family-planning, non-traditional methods, habits and behaviors that trigger seizures, traumatic brain injury as it affects veterans and the family nucleus, navigating the new healthcare landscape, the administration of seizure rescue medication in the public school system and more.
"[The Brain Storm Summit] is the only conference of its kind in the region and is especially unique because, with a broad range of timely topics that cover so many different aspects of the epilepsy experience, it's relevant and accessible to all -- whether you have epilepsy or know and care for someone with epilepsy," explained Susan Pietsch-Escueta, the Executive Director of the Epilepsy Foundation of Greater Los Angeles.
"As a woman with epilepsy, I look forward to the workshop on sexuality, pregnancy and epilepsy," said Rachel Monroe, a Summit committee member. "I hope to learn steps I can take now to prepare myself for having children. To know that I can influence my own health and take better control of my well-being has been eye-opening for me and I look forward to sharing with and learning from others."
The event is organized by the Epilepsy Foundation of Greater Los Angeles in close partnership with the Epilepsy Programs at USC-County-Rancho Medical Centers, David Geffen School of Medicine at UCLA, Huntington Memorial Medical Center, Cedars-Sinai Medical Center, Loma Linda Medical Center and the West Los Angeles VA Medical Center, and other clinics and centers represented by the Foundation's Professional Advisory Board.
Sponsors of the 2012 Epilepsy Brain Storm Summit include Toyota, Cyberonics, Lundbeck, Morgan Stanley Smith Barney and the Truckers Employees Association.
Space is limited so advanced registration is strongly recommended. Visit http://www.EpilepsyBrainStormSummit.org to sign-up or learn more about this event.
About Epilepsy
Without warning, seizures can happen to anyone at any age. When a person has two or more unprovoked seizures, they have epilepsy. Seizures do not all look the same and, according to the International League Against Epilepsy, there are currently more than 25 different recognized epilepsy syndromes affecting almost 3 million people in the U.S. and about 60 million people worldwide. Someone is diagnosed with epilepsy every three minutes and, this year alone, another 200,000 people in our country will be diagnosed. To date, there are no known cures.
About the Epilepsy Foundation of Greater Los Angeles
Established in 1957, the Epilepsy Foundation of Greater Los Angeles is the only nonprofit, 501(c)(3) charitable organization dedicated solely to serving the almost 160,000 people living with epilepsy throughout the 4-county region of Los Angeles, Orange, San Bernardino and Ventura. The Epilepsy Foundation of Greater Los Angeles is leading the fight to END EPILEPSY® and the burden of seizures. We focus on care, advocacy, research and education. http://www.END-EPILEPSY.org
###