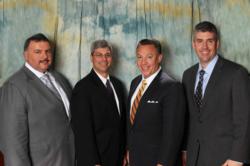 "We're still here!"
(PRWEB) January 31, 2012
Residential Home Funding Corp. (RHFC) a New York-New Jersey regional mortgage bank held its Annual Meeting on Thursday, January 26, 2012 at the Sheraton Tara in Parsippany drawing over 350 employees and strategic business partners.
RHFC President Tom Marinaro gave the opening remarks, reminding everyone that in a very tough economy, in an even more difficult industry "we're still here!" Mr. Marinaro thanked his employees for their dedication and hard work and read off a litany of highlights for 2011 and planned events for 2012.
Despite the down real estate market, Residential saw its greatest year in loan origination volume as the company, despite the downturn, reached nearly $1 Billion in closed loans for the third straight year.
The event's keynote speaker this year was Bart Oates, three-time Super Bowl Champion, former New York Giant great. The football star regaled the audience with his memories of his Super Bowl victories with the Giants and the San Francisco 49ers. He also talked about how persistence and dedication kept him on the road from his boyhood in a small Georgia town to the Big Show in NY and sport's greatest championship event.
The Annual Meeting ended with great fanfare and a overall feeling that 2012 would be even better than 2011.
Residential Home Funding Corp. is a licensed mortgage lender in New Jersey, New York, Pennsylvania and Connecticut. It is an Equal Housing Lender. This is not a commitment to lend; all loans are subject to application and underwriting approval and program rates and terms subject to change without notice. For more information visit the RHFC website at http://www.rhfunding.com.
###