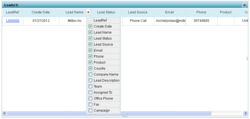 "These new SutiCRM features enable companies to configure the CRM solution as they need and tailor the solution to their specific environment." - said N.D. Reddy, founder and CEO of SutiSoft Inc.
Los Altos, CA (PRWEB) January 31, 2012
SutiSoft Inc., a trusted provider of hosted and enterprise solutions today announced the release of SutiCRM 5.1, its web-based SMB/Enterprise CRM solution with added customization capabilities for all users.
The new release includes abilities to customize templates for invoices, quotes, sales orders and purchase orders; partial/complete invoice generation, customizable views and enhanced search criteria. The solution can be easily customized according to user's requirements.
New features Include
Templates
Region administrators can customize templates for creating invoices, quotes, sales orders and purchase orders for users of their region. Templates will be applied when users send out invoices, quotes, sales orders and purchase orders to customers.
Dashboard Customization
Global, geography and territory administrators can view leads and opportunity dashboards based on date filters based on a user's requirement.
Auto Generate Invoice
Automatically generate partial/complete invoices for products issued from inventory.
Delete Products in Opportunity
Delete products and forecasts from an opportunity.
Alphabetical Search
Sort leads, opportunities, quotes and sales orders alphabetically. Region administrators can also sort accounts, contacts and invoices.
Top 10 Activities with Highest Revenue
Global, geography and territory administrators can view the top 10 activities with highest revenue and filter them by geography, territory and region.
Customizable Views
Columns used to display leads, accounts; contacts and opportunities details can be customized according to your requirements.
Region Privileges
Region administrators can have privileges to lead scoring, taxes and template features. Administrators can add additional privileges later as needed.
Enhanced Criteria
Global, geography and territory administrators can easily track leads, opportunities, quotes and sales orders using the enhanced search criteria.
Customize Values
Administrators can customize drop down values for call status, lead source, opportunity type and service level fields.
Type-in Search
Quickly select values for fields using the type-in search capabilities. Type-in the first character and all related values for the field will be displayed in the drop down.
SutiCRM is available in multiple versions: Free, Small Business, Corporate and Enterprise. Pricing starts at $9.95/per month/per user up to 30 users. Visit http://www.suticrm.com for more info.
About SutiSoft Inc
SutiSoft Inc. is a privately held company founded by N.D. Reddy, a successful Entrepreneur with over 30 years of experience in both the Hardware and Software industry as a Founder, and CEO. The Company's leading edge enterprise/SaaS application software products range from business productivity solutions such as Electronic Signature, Expense Management, Document Control Systems, Governance, Risk and Compliance, Security Solutions and others. The company's products are developed using Java, Flex, HTML 5, AJAX and other cutting-edge technologies which allow SutiSoft to retain its core values which are Simple, Scalable, Secured, and Seamless. Headquartered in Los Altos, California USA, SutiSoft has offices in Northern California, India, Germany and Japan. Additional information is available at http://www.sutisoft.com.
###